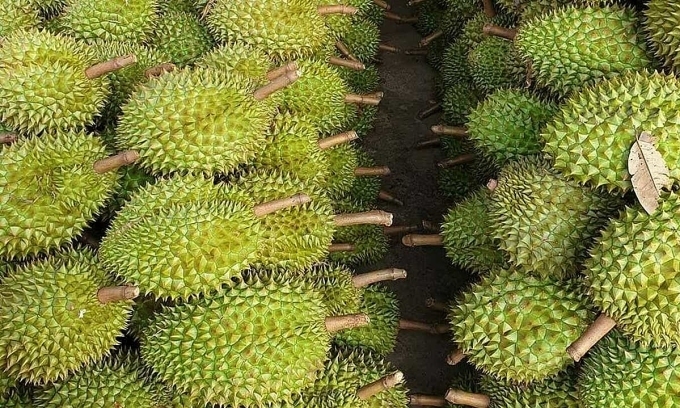 Durians are sold at a market in Ho Chi Minh City. Photo by VnExpress/Hong Chau
Durian exports increased 19-fold year-on-year in the first half of this year to US$876 million, according to Vietnam Customs. Of this, China alone accounted for $835 million.
Dang Phuc Nguyen, general secretary of the Vietnam Fruits and Vegetables Association, said durian is harvested in May-June in the southern provinces and August-December in the Central Highlands.
The Government has signed many protocols and free trade agreements that foster the development of local fruit and vegetable market, he said.
In the first half fruit and vegetable exports topped US$2.7 billion, a year-on-year jump of 60%.
Recently durian has been recently bought at high prices by Chinese firms and small traders. Since transportation from Vietnam to China does not take long short, the fruits remain fresh, giving them a competitive advantage over Thai exports.
First grade durian is now sold at the farm gate at VND85,000-100,000 ($3.59-4.22) per kilogram.
Exporters said the quality is higher this year than in previous years. Domestic demand was up 10-15% in the first half.
According to the Department of Crop Production, durian is grown on 110,300 hectares now compared to just 37,000 ha as recently as in 2017.
The output this year is estimated at 1 million tons, 15.9% higher than last year, and 400,000-500,000 tons are expected to be exported for some $1.5 billion.
Last year Thailand exported more than 800,000 tons, earning $3.5 billion.
Source: Thi Ha, 2023
Link: https://e.vnexpress.net/news/business/industries/durian-exports-up-19-times-4635447.html