Through many years of negotiation efforts, two more Vietnamese agricultural products, durian and sweet potato, have been officially imported into China, however, this is still a market with great potential and space, Vietnamese agricultural exporters need to develop a methodical plan to better exploit this market.
Durian exports spiked
According to the General Statistics Office, in the first six months of 2023, fruit and vegetable exports reached US$2.75 billion, up more than 64% over the same period last year. In which, China is the largest export market of Vietnam's agricultural products, accounting for more than 50% of the total export volume of agricultural products.
In addition to the initiative of the business community, this result is due to the efforts of the Vietnamese authorities to promote negotiations over the years, so that the process of completing the procedures to open the Chinese market for a number of Vietnamese agricultural products has been completed. In total, Vietnam has 12 types of agricultural products that have been allowed to officially export to the Chinese market, including: dragon fruit, mango, watermelon, lychee, longan, banana, jackfruit, rambutan, passion fruit, mangosteen, durian and sweet potato.
Especially in that, since September 2022 when Vietnam's first durian shipment was exported to the Chinese market, up to now, Vietnam's durian export turnover has increased dramatically.
In the first 5 months of the year, durian rose to the top of Vietnam's fruit export turnover when it reached over US$526 million, an increase of more than 10 times over the same period last year. China is also the largest importer of Vietnamese durian, with an estimated turnover of nearly 500 million USD, accounting for 95% of the total export value of the country's commodity group.
Many experts believe that Vietnam's official signing of the Protocol to officially export durian to China has opened up great opportunities for this product, and at the same time, Vietnam's durian price is also more competitive than that of other competitors.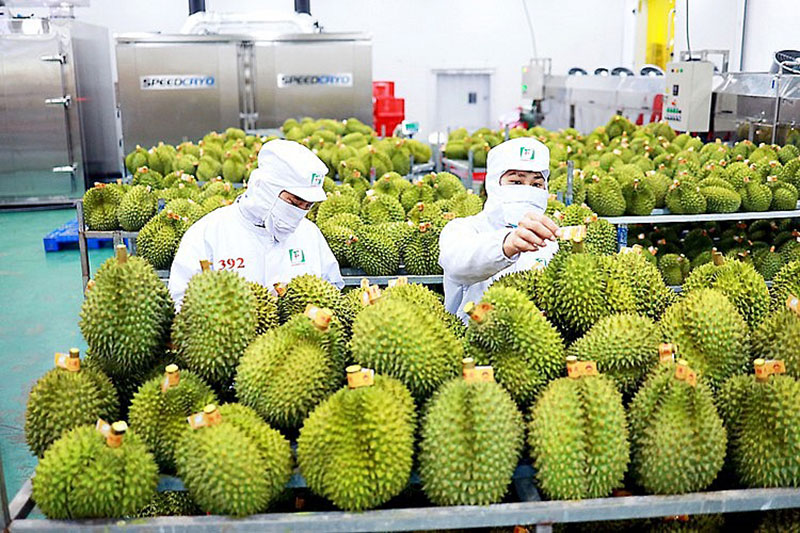 Currently, Vietnam has about 6,500 growing areas and 1,600 packing facilities in 33 localities that are granted export codes. In which, durian has at least 293 growing area codes and 115 packing facility codes granted by the General Administration of Customs of China (GACC) to be eligible for official export to this country.
It is expected that an additional 400 growing area codes and 60 packing facility codes will continue to be licensed as the Vietnamese Regulatory Authority is working with GACC to agree on an online inspection schedule.
"Light door" for sweet potatoes
Along with durian, recently another Vietnamese agricultural product that has successfully penetrated the Chinese market is sweet potato. Specifically, in April 2023, the General Administration of Customs of China approved and granted codes for 70 growing areas and 13 sweet potato packing establishments eligible for official export to this market.
This is an opportunity for Vietnamese localities and businesses to develop this product line in a modern direction, ensuring quality, safety, sustainability and close links from production to consumption markets. Since then, improving efficiency and raising the value of Vietnamese agricultural products in the Chinese market in particular and in the international arena in general.
Vinh Long is the first province to have a shipment of sweet potatoes officially exported to China.
Sweet potato is one of the key agricultural products of Vinh Long province with a sweet potato growing area of 12,000-14,000 ha/year and an output of 380,000 – 400,000 tons/year.
In the context of a sharp decrease in exports of many key commodities such as seafood, textiles, etc., in the first months of the year, sweet potatoes are expected to become a commodity that contributes to the growth of agricultural export turnover of Vinh Long as well as the whole country in the third and fourth quarters of 2023.
Quick change to penetrate deeper into the Chinese market
Thanks to explosive demand, favorable geographical location, lower logistics costs and risks compared to other markets, experts predict that in 2023, the Chinese market will be the largest destination of Vietnamese agricultural products.
However, the Chinese government is increasingly tightening regulations governing the import of goods and advocates for high-quality trade. At the same time, constantly improve management mechanisms and policies on quality standards, quarantine testing, food safety and hygiene, traceability, import and export business registration, inspection of growing areas, factories, … for goods in general and imported goods in particular.
Meanwhile, Vietnamese production and business households have not yet had time to change and adapt to the new adjustments of this market, which can be mentioned as: the quality of goods is not uniform, the post-harvest preservation is still inadequate, leading to not meeting China's regulations on export conditions, food hygiene and safety.
In order to penetrate deeper and exploit the Chinese market better, the Import-Export Department (Ministry of Industry and Trade) encourages localities and exporters to build product brands and export in the official form to ensure the quality of goods as well as avoid unnecessary risks.
Localities and manufacturing enterprises also need to increase the application of production models according to VietGAP and GlobalGAP standards to fully meet the increasingly strict and strict quarantine regulations of the Chinese Government.
Research and design specific packaging for the Chinese market, with priority given to the information on the packaging in Chinese. Clearly classify the grade and specifications of each specific item before exporting.
Minimize unnecessary errors in the process of exporting agricultural products, specifically the information on the Certificate of Quarantine, on the Certificate of Origin needs to match the reality of the export shipment, avoiding the fact that the relevant authorities of the Chinese side do not allow customs clearance due to the above-mentioned errors, while in fact the exported goods have fully met the requirements of the Chinese side.
At the same time, continue to invest in technology and plant varieties to improve the quality of agricultural products for export, limiting the dependence on natural conditions as a competitive advantage.
Focusing on trade promotion work such as actively participating in specialized fairs in the field of agricultural products in China to promote and introduce products, especially branded agricultural products such as mango, litchi, dragon fruit, etc., thereby, connecting trade, looking for reputable partners and importers to export Vietnamese agricultural products to the Chinese market in a formal and methodical manner.
To study the possibility of cooperating with a number of enterprises in the field of e-commerce of China to import and consume agricultural products through e-commerce in this market.
The Ministry of Industry and Trade affirmed that the Chinese market has always been a key target market so far and will also be in the future. Therefore, enterprises exporting agricultural products to this market need to focus on developing appropriate production and business plans and strategies to expand opportunities to access and effectively exploit this market.
Source: https://tapchicongthuong.vn/bai-viet/cua-vao-trung-quoc-da-mo-nong-san-viet-chay-dua-khai-thac-thi-truong-107750.htm