Vietnamese coconut growers and businesses are excited to expand production to meet the domestic and foreign demand which is expected to increase in the coming time.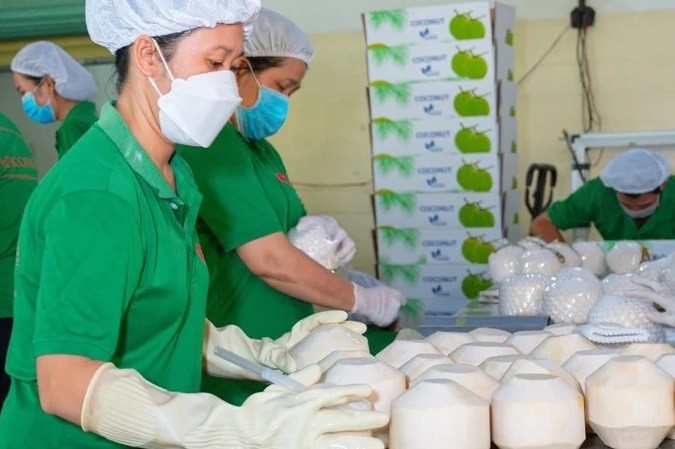 Bui Duong Thuat, Director of the Mekong Fruit Export Ltd.Co in Chau Thanh district, the southern province of Ben Tre, said that the US market is the second-biggest coconut importer in the world, just after China as it imports approximately 2,000 containers of fresh coconut yearly.
Meanwhile, Vietnamese companies export between 110 and 120 containers of fresh coconuts to the US a year. Therefore, there remains room for Vietnamese coconut in the market.
Moreover, the General Administration of Customs of China is inspecting cultivation areas to endorse a protocol authorising the official import of Vietnamese fresh coconut to the market of over 1 billion people, Thuat said, hoping that Vietnam's fresh coconut will be exported to China soon.
To seize the opportunity, he said his company planned to cooperate with coconut farmers in Ben Tre province to develop a 100-ha organic material area.
Vo Van Hai, the Chairman of the Luong Hoa commune Farmers' Association in Ben Tre province's Giong Trom district, said that the commune is one of the most productive coconut-growing areas in Vietnam. Currently, there are more than 716 ha of coconut farming in the commune, with 300 ha grown to get coconut water.
On average, a tree yields between 140 and 150 coconuts per year, and coconut farmers can earn up to 100 million VND (4,200 USD) per hectare per year.
Ben Tre is known as Vietnam's coconut capital with a coconut growing area accounting for about 40% of the country's total and 46% of the total in the Mekong Delta region.
Huynh Quang Duc, Deputy Director of the provincial Department of Agriculture and Rural Development, said that Ben Tre has over 78,000 ha under coconut farming and produces over 800 million coconuts a year.
Regarding coconuts grown to get coconut water, the province cultivates nearly 16,000 ha with a yearly output of about 390 million coconuts. About half of the coconuts meet export requirements.
Ben Tre has five enterprises that export fresh coconuts to markets, including Japan, Singapore, Taiwan (China), Australia, and Canada. About 20 companies have registered to get packaging facility codes and planting area codes that enable them to export coconut to the Chinese market.
Besides, geographical indications have been granted to the province's coconut products. Therefore, the effective exploitation of the geographical indications adds an advantage for Ben Tre coconut to expand its markets.
Source: Opportunity for Vietnam's coconut exports to US, China | Nhan Dan Online