US Ambassador Marc Knapper expects that Vietnam – US trade relations, especially agricultural products, will increase further after the two countries have upgraded their relationship to a comprehensive strategic partnership.
On September 21, the US Department of Agriculture and the US Embassy organized the United Tastes barbecue festival to celebrate the United States and Vietnam upgrading to a Comprehensive Strategic Partnership.
The event taking place in Hanoi with the presence of Master Chef Champion Christine Ha, is an opportunity to introduce American food, beverages, agricultural products and culture to importers, retailers, hotels, and restaurants. restaurants and chefs in Vietnam.
Sharing at the festival, US Ambassador Marc Knapper assessed this event as an example of effective trade relations between the United States and Vietnam, especially in the field of agricultural products.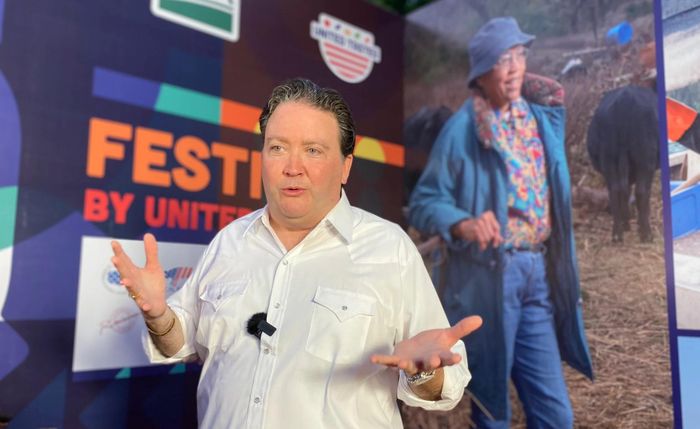 Last year, the total bilateral trade turnover between Vietnam and the United States increased more than 300 times compared to 1995.
Particularly in the agricultural sector, US-Vietnam agricultural trade has grown rapidly in the last 5 years, with bilateral agricultural trade turnover reaching 9.8 billion USD in 2022.
Vietnam is the 9th largest importer of US agricultural products, while the United States is the largest importer of Vietnamese agricultural products.
This vibrant two-way trade relationship benefits the manufacturers, exporters, importers and consumers of the two countries – Mr. Knapper emphasized.
Mr. Knapper shared that looking back at the development trend in Vietnam-US relations over the past time, we can see that the trend is always increasing each year.
Therefore, according to the US Ambassador, when the two countries strengthen their relationship to the level of a comprehensive strategic partnership, certainly, in the coming years, the two countries' trade relations will increase significantly.
One of the areas that he is very hopeful about is Vietnam – the United States expanding trade relations in agricultural products between Vietnam and the United States.
The close cooperation between the United States and Vietnam in promoting agricultural trade, and trade in general, is a testament to the commitment between the two countries in building a prosperous future for their people. United States, Vietnam, region and world.
Source: https://baomoi.com/dai-su-hoa-ky-mong-mo-rong-quan-he-thuong-mai-nong-san-voi-viet-nam/c/47005610.epi