(KTSG Online) – The export of fruits and vegetables from the beginning of 2023 has shown positive signs, aiming to reach an export turnover of 4 billion USD, up 20% compared to last year. Besides dragon fruit, bananas, coconuts, etc., this additional market share is "relied" a lot from durian fruit. However, the path to join the billion-dollar export revenue 'club' is fraught with many challenges and requires sustainable solutions.
Many Vietnamese fruits have been accepted by fastidious markets such as Japan, the US, and Europe to increase export turnover, but China is still a market with high expectations when it opens its borders. from the beginning of this year…
Durian carries many expectations
With positive export results in the last 3 months of the year, along with 230 more establishments that have just been licensed by China, durian is expected to become a fruit with an export turnover of 1 billion USD.
Mr. Le Minh Trac, in charge of business of Vinh Khang Cooperative (Tien Giang), said that the durian crop will come around April-May, the members of the cooperative are looking forward to the approval results of 12 months. ha of durian growing area is being considered for a planting area code for export to China.
"If licensed, in the next 2-3 months, about 180-240 tons of our durian will be officially exported to China through the association with packaging enterprises," Mr. Trac shared.
And Mr. Nguyen Dinh Tung, General Director of Vina T&T Group Company, one of 25 Vietnamese enterprises with a durian code, a code of the growing area exported to the Chinese market, said that in the first months of this year, orders Exports of enterprises increased by 25%.
Sharing at the recent International Exhibition of Fruits and Vegetables (HortEx Vietnam 2023) in Ho Chi Minh City, Mr. Tung forecasted that orders for the coming quarters would continue to grow at a high rate. Currently, Vina T&T Group has signed a contract with a Hong Kong partner to supply 1,500 containers of durian in 2023.
With the fact that Vietnam has just been granted a hundred more planting area codes and packing facility codes, I think durian export volume this year will increase not only for Vina T&T but also for the whole industry, Tung shared.
Durian is a fruit with high economic value and is very popular with Chinese people. After signing the Protocol between the Ministry of Agriculture and Rural Development (MARD) of Vietnam and the General Administration of Customs of China on phytosanitary requirements for Vietnamese fresh durian exported to China, the shipment Vietnam's first durian has been officially exported to China from mid-September, 2022.
"Vietnamese durian fruit is attracting great attention in the Chinese market," said Dang Phuc Nguyen, General Secretary of the Vietnam Fruit and Vegetable Association (Vinafruit), and said: "Although it is only a major export, Despite being aware for a few months, China has imported this fruit from Vietnam with a value of hundreds of millions of dollars.
Currently, Vietnamese durian is exported to countries and territories such as Australia, the US, Japan, Taiwan, China…. in which China accounts for the majority.
According to Mr. Nguyen, the survey shows that consumers in China highly appreciate and prefer Vietnamese durian compared to imports from neighboring countries such as Malaysia, Myanmar and Thailand.
"Vietnamese durian has many competitive advantages when entering the market of more than 1.4 billion people thanks to the close transport distance, which takes only 1.5 days compared to the 7-10 day time of Thai durian. The quality of Vietnamese durian fruit is therefore well preserved and fresh. These advantages help the price of durian in Vietnam is also better than that of Thailand, "said Nguyen.
Even during the last Tet holiday, many businesses were happy because the export price of fruits increased by 3 to 5 times, such as durian from 40,000 VND/kg in the garden to 160,000 VND.
"Every year, China imports more than 4 billion dollars of durian, 90% from Thailand, the rest from Malaysia and Myanmar in frozen form… Vietnamese fresh durian is being highly appreciated and has the opportunity to reach the above-mentioned turnover. 1 billion dollars this year is very promising, "said Nguyen.
Can dragon fruit return to the billion-dollar milestone?
Meanwhile, dragon fruit, which ranks first in fruit and vegetable exports, also has the opportunity to accelerate again this year thanks to the opening of China. This billion-people market has always accounted for 80-90% of Vietnam's total dragon fruit export value in recent years.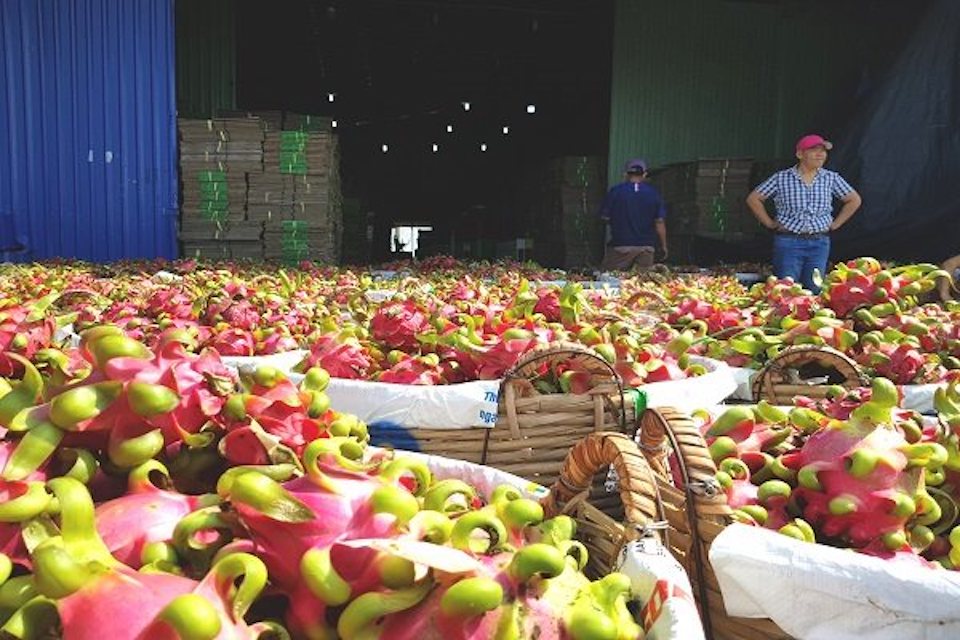 According to fruit exporters, after China opened in the first days of the year, the price of dragon fruit immediately increased. Gardeners sell for high prices. In January 2023 and after the Lunar New Year, dragon fruits are purchased at the garden with prices ranging from 20,000-30,000 VND/kg, helping farmers to earn high profits.
The reason for the high price of dragon fruit, besides the demand factor from the import market, is also because the amount of dragon fruit in the market is shrinking. The reason is that in the past few years, due to the influence of the Covid-19 epidemic, dragon fruit exports have come to a standstill, leading to a deep drop in prices, many gardeners have cut them down, causing dragon fruit production to sometimes decrease by about 50%.
According to a representative of Hoang Hau Dragon Fruit Company, from the beginning of January 2023, China reopened to help dragon fruit exports to this market much more favorable. The volume of businesses coming here has also increased with the expectation that Vietnam's dragon fruit exports will soon return to the $ 1 billion mark.
In fact, in previous years, Vietnam's dragon fruit export turnover has reached the billion-dollar mark. Specifically, in 2019 dragon fruit exports reached $1.25 billion; 2020 even though it was reduced, it still reached $ 1.12 billion. By 2021, Vietnamese dragon fruit will lose its status as a "billion dollar" fruit when it drops to $998 million.
In 2022, the export turnover of dragon fruit is only 632.6 million USD, down 38.7% compared to 2021. This is partly due to China's implementation of the zero covid policy, strictly controlling imported goods.
Along with the reopening of the Chinese market, other major markets… also increased their imports of this fruit, which was supported by cooled freight rates.
This is a product that has penetrated many markets, especially more than 10 countries and territories around the world have agreed to protect geographical indications; in which, there are difficult markets such as the US, Japan, UK, Germany, France and Korea, etc. Therefore, analysts predict that dragon fruit will be able to regain the billion-dollar mark as before.  
Opportunities ahead…
Bananas are also expected to bring in a much larger export value than last year's figure of more than 300 million dollars, because the "launching pad" is the Export Protocol signed with China in November 2022.
Accordingly, bananas are officially exported, with standardized production and packaging processes, thereby creating momentum for an increase in export turnover in the following years. China alone spends more than 1 billion dollars importing bananas each year, of which, Vietnam is currently the second largest banana exporter to this market, after the Philippines.
Also according to Vinafruit, Vietnam's bananas and products processed from bananas are being exported strongly to Singapore and Malaysia markets. After dragon fruit, durian, jackfruit and mango, banana is a strong export fruit, bringing in hundreds of millions of dollars each year.
According to Mr. Dang Phuc Nguyen of Vinafruit, exporting vegetables and fruits to the Chinese market always accounts for over 50% of the total turnover. Therefore, when China opens the border, vegetables and fruits transported by road will go faster, and the freight will be cheaper, which will give Vietnam a competitive advantage over many other countries.
In addition to China, success in trade promotion, opening the market in 2022 brings many kinds of Vietnamese fruits to export to other markets.
For example, the US has allowed the import of pomelo from Vietnam; New Zealand also allows Vietnamese pomelos and lemons; and Japan allows fresh Vietnamese longan to be imported into Japan.
Besides, the Covid-19 epidemic in many countries is under control, the cheaper the freight rate… the export of Vietnamese vegetables and fruits has many advantages.
"The Chinese market is open, the border is restored to customs and the 15 free trade agreements that Vietnam signed have come into effect will create a great impetus for fruit and vegetable exports," Nguyen said. , and believe: "We forecast 2023 to be a booming year for fruit and vegetable exports, growing at least 20% compared to 2022, which will hit the $4 billion mark, compared to the $3.34 billion result. la of 2022".
… comes with challenges and requirements for sustainability goals
In 2023, Vietnam's high-quality key fruit products with competitive advantages will continue to be negotiated by authorities in many new markets.
With increasing quality, meeting many strict criteria from fastidious markets, fruit products are also forecasted to continuously grow in the following years. The Ministry of Agriculture and Rural Development has also developed a plan that by 2025, fruit export turnover will be 5 billion USD and by 2030 will reach about 6.5 billion USD.
However, together with high export growth, it also faces many challenges when the standards of import markets are set higher and higher.
For example, China is raising the import standards of fresh vegetables and fruits not inferior to fastidious markets. For example, this country's pesticide residue standards are getting more and more difficult.
China has not only raised the standards, but the quality supervision is also made stricter, if not, the shipment cannot be exported.
Exported fruits and products must ensure food safety and hygiene, but each market has different requirements and standards.
Exporting to the EU, businesses must pay attention that 100% of goods imported into their country are "tested" for quality inspection samples, if not, they will be returned and banned from import. Good products are not only qualified for export, but also in the distribution process, reaching consumers with quality. Many businesses are subjective, only calculating shipping time without adding delivery time, so consumers use it to fail.
A significant challenge today is that less than 5% of Vietnam's total fresh fruit production is properly processed and packaged to be able to be exported to high-end markets. In addition, in the past, the social responsibility factor of exporters was not mandatory but is now mandatory when exporting to the EU market.
Notably, in the international market, Vietnamese fruit has almost no famous and proud brand like many products of Thailand, Japan…
Mr. Nguyen Dinh Tung of Vina T&T, citing in the world market, Washington apples are associated with the US; New Zealand kiwi fruit; Taki melon is the pride of Japanese people; Thais have Monthong durian; Malaysia has expensive Musang King durian, Vietnam has almost no famous products to be proud of.
The building of a national brand for fruit according to analysts is to increase value and competitiveness in the international market…
Source: https://thesaigontimes.vn/duong-di-cho-trai-cay-viet-gia-nhap-cau-lac-bo-ti-do-la/