Vietnamese durians in a shipment of 5 tons are sold at supermarkets in the United Kingdom, priced at more than 400,000 VND/kg. With outstanding quality, this fruit of Vietnam is having a competitive advantage compared to durian from other countries.
Recently, UK in Vietnam (the official Facebook of the British Embassy and the British Consulate General in Vietnam) posted information, 5 tons of Ri6 durian from Vietnam has just been distributed to supermarkets in the UK in early May.
With superior quality and preferential import tax exemption thanks to the UK – Vietnam Free Trade Agreement (UKVFTA), Vietnamese durian has a very competitive advantage in the UK market compared to durians from other countries. .
Previously, many specialty fruits of Vietnam were also present in the UK, such as Bac Giang lychee, Tan Lac red pomelo and Dien pomelo (Yen Thuy), Cao Phong orange of Hoa Binh province.
Along with the above information, UK in Vietnam posted a picture of durian fruit with the words: "Welcome the 'king of fruits' Ri6 Vietnam durian to the UK market".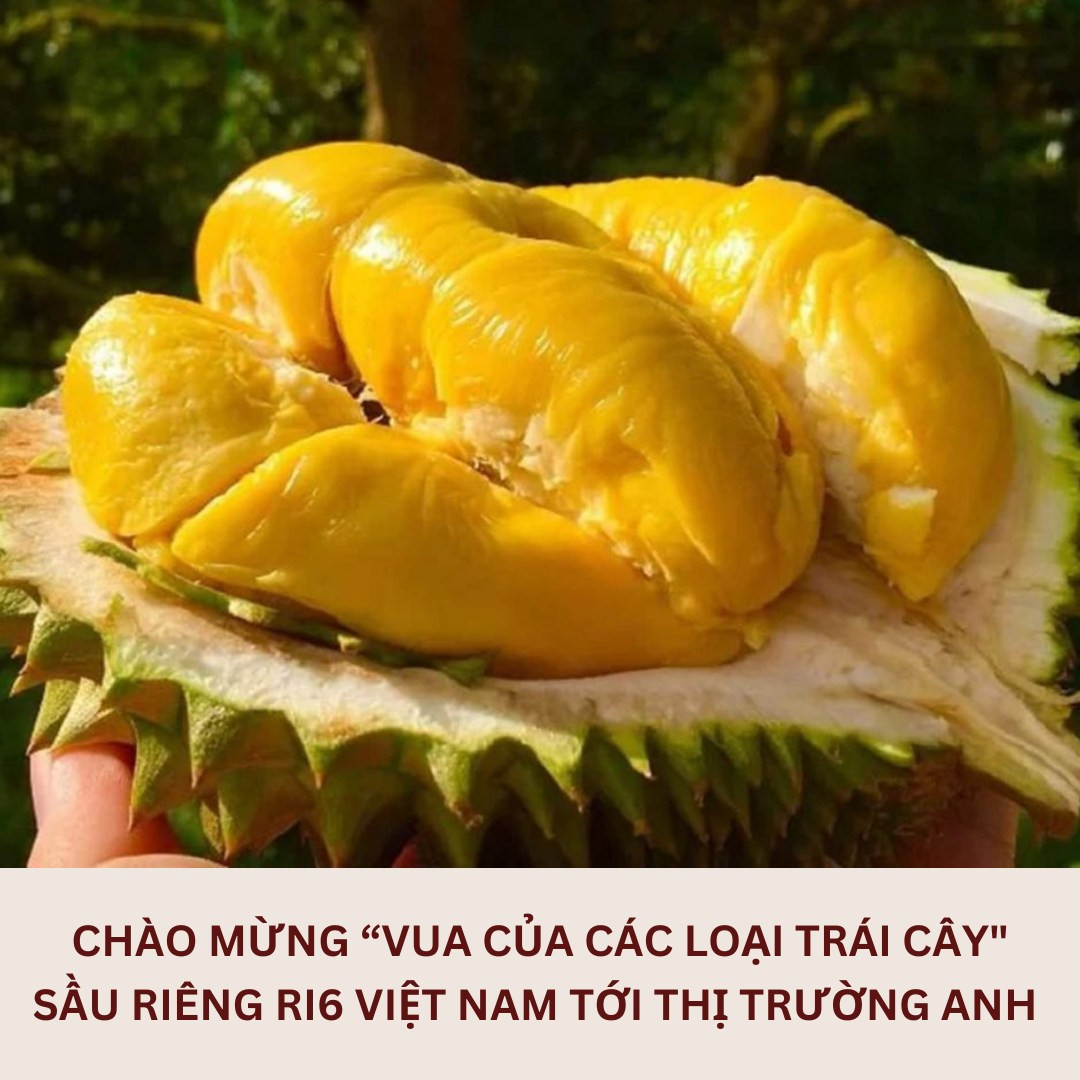 Vietnamese durian specialties are sold at British supermarkets for 14 pounds/kg (about 411,000 VND/kg). The weight of each fruit ranges from 2-3kg, ie a durian costs from 822,000 to 1.23 million.
According to the Vietnam Trade Office in the UK, a shipment of Ri6 durian (5 tons) from Vietnam was officially imported by TT Meridian Ltd (UK), cleared on May 4 and distributed to supermarkets in the UK. .
Mr. Nguyen Canh Cuong, Counselor of the Vietnam Trade Office in the UK, said that importers are confident about the quality of their products and expect the market to respond well, thereby preparing for larger shipments. .
According to TT Meridian's representative, the durian business is considered one of the stepping stones for this business to introduce Vietnam's leading fruit products to the UK in the near future.
In 2023, TT Meridian Ltd plans to strengthen its fresh fruit business, introduce Vietnamese tropical fruits to the UK market such as durian, mango, litchi, longan,… based on feedback returns and orders from distributors and consumers across the UK.
Importers of Vietnamese agricultural products are having a competitive advantage in the UK market thanks to the exemption from import tax under UKVFTA as well as the quality of agricultural products.
For example, durian fruit imported from countries without tax incentives is subject to a tax rate of 8%, while durian from Vietnam enjoys a preferential tax rate of 0% under the UKVFTA Agreement. Therefore, enterprises can compete with similar products from Thailand and Malaysia.
Information from the Department of Crop Production (Ministry of Agriculture and Rural Development), our country's total durian production this year is estimated at 1 million tons, up nearly 16% compared to 2022. Notably, instead of only one crop like other In Vietnam, durian is available all year round, in which the peak harvest is in the second and third quarters.
Specifically, durian output in the first quarter of 2023 reached 90,000 tons, in the second quarter about 300,000 tons, in the third quarter the highest output was estimated at 350,000 tons, in the fourth quarter about 260,000 tons.
Currently, Vietnamese durian is exported to many countries and territories, but the main market is still China. In the first quarter of this year, Vietnam's durian export turnover reached 153.5 million USD, an increase of more than 8.3 times (733%) compared to the same period last year. In which, China accounted for 87% market share with a turnover of 133.6 million USD.
In 2022, this specialty fruit helps Vietnam earn $421 million, an increase of nearly 137% compared to 2021 – a historical record in turnover value. Dang Phuc Nguyen, General Secretary of the Vietnam Fruit and Vegetable Association, said that in 2023, Vietnamese durians will set a new export record, expected to bring in 1 billion USD.
Source: https://vietnamnet.vn/sau-rieng-viet-ban-tai-sieu-thi-vuong-quoc-anh-400-nghin-dong-kg-2142569.html