(HNM) – Thanks to promoting the application of scientific and technical advances to production, improving productivity and product quality, many agricultural products are local specialties of Vietnam such as: longan, litchi, rambutan, mango, durian… have created a foothold in the world market. This not only affirms the prestige of Vietnamese agricultural products but also brings high economic value to farmers.
Wide variety of high quality agricultural products
Some agricultural products of Hanoi with high quality have been exported to many markets such as: Van Duc safe vegetables (Gia Lam district) to the Korean market, Dong Phu organic rice (Chuong My district) to the market. According to Director of Van Duc Agricultural Service Business Cooperative (Gia Lam district) Nguyen Van Duc, to promote consumption in the domestic market and reach out to the world The cooperative has focused on improving product quality. Up to now, the cooperative's safe vegetables have been exported to Taiwan (China), South Korea, with an output of 300-500 tons/year, the price is 20% higher than the domestic market. This is the right direction with the production situation and international economic integration, helping farmers have stable "output" and peace of mind in production.
Also on this issue, Director of the Sub-Department for Quality Management of Agro-Forestry and Fisheries Products of Hoa Binh Province Nguyen Huu Tai informed: Currently, the province has 123 products participating in the One Commune One Product Program (OCOP). ) is rated 3-4 stars; more than 100 chains of production and supply of safe food have been formed. In 2022, Hoa Binh exported 1,029 tons of products, including: Banana, longan, pomelo, sugarcane to China, Korea, America and Europe; exported 975 tons of processed products such as bamboo shoots, ginger… and 35 million cans of processed products from nuts to Japan, China, the Netherlands, and Korea…
According to the Ministry of Agriculture and Rural Development, many local agricultural products such as bananas, sweet potatoes, bird's nests, pomelos, longans, etc. have been licensed for export to a number of high-value markets in the world such as New Zealand, the United States, and the United States. , Japan… This opens up a bright and sustainable future for Vietnam's agricultural exports. In 2022, there are 5 groups of goods with export turnover of over 2 billion USD, including: Coffee, rubber, rice, vegetables and cashew nuts. Right in January 2023, Vietnam's agricultural exports reached 200 countries and territories, reaching 3.73 billion USD.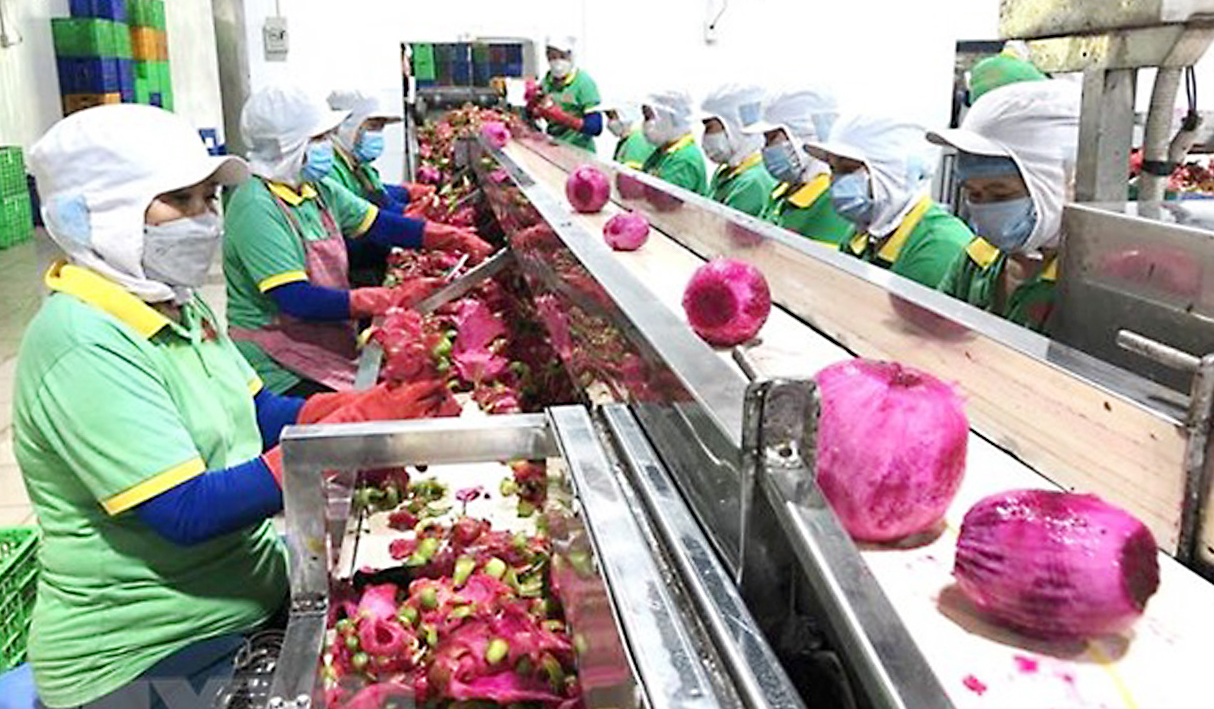 Building a competitive strategy
Currently, many types of agricultural products are local specialties that have dominated the world market, but it is a fact that the quality of some agricultural products is not stable, on the other hand, although there are many export products in the world, the quality of agricultural products is not stable. However, more than 80% of products have not yet built a brand name, have no logo or label of Vietnam. Faced with this fact, the Ministry of Agriculture and Rural Development said: With any market, Vietnamese agricultural products must develop a competitive strategy in terms of quality, price and brand; at the same time upgrade the quality for all agricultural products according to the standards of the markets.
According to Director of Haiyang Trading and Production Co., Ltd (Binh Thuan province) Bui Thi Hai, the company has built an agricultural product processing factory and coordinated with farmers to form a sample durian garden according to the technical requirements. to bring to the market products that meet green and clean criteria, thereby expanding the export market of agricultural products.
Deputy Director of Hanoi Department of Agriculture and Rural Development Nguyen Ngoc Son informed: In order for the capital's agricultural products to continue reaching out to the world market, the Agriculture sector will review mechanisms and policies, on that basis, propose competent authorities to regulate them. amending, supplementing and promulgating new mechanisms and policies to develop the field of processing, trade promotion, market development and export promotion of agricultural products. "The Agriculture sector makes connections between localities and businesses, cooperatives… in order to improve and raise the quality of key agricultural products in different stages; encourage enterprises, cooperatives and households to invest in preliminary processing, processing and preservation of agricultural products on an industrial scale; building a concentrated raw material area for potential and advantageous products to serve the processing and export industries … ", Mr. Nguyen Ngoc Son added.
In order to increase the value of agricultural products, the export target in 2023 is 55 billion USD. Deputy Minister of Agriculture and Rural Development Phung Duc Tien said that in the coming time, it is necessary to focus on key product groups, organize trade promotion and promote products that have been licensed to access the Chinese market (passionate, passion fruit, etc.) durian, banana), New Zealand (lemon, grapefruit), Japan (longan), United States (grapefruit)… Along with that, continued negotiations to promote market opening for crop products such as: China Nationality (signing protocol on phytosanitary requirements for dragon fruit, longan, lychee, rambutan, mango; opening official doors for avocado, custard apple, pomelo); Korea (red flesh dragon fruit)…
In the current world context, in order to expand the export market of key agricultural products, businesses need to improve the quality and value of products associated with traceability and digital transformation to meet the requirements of each individual market.
Source: http://hanoimoi.com.vn/tin-tuc/nong-nghiep/1056677/dua-nong-san-dia-phuong-ra-the-gioi