In May 2017, within the framework of the "Belt and Road" High-Level Forum for International Cooperation held in Beijing (China), General Secretary – President of China Xi Jinping announced the initiative organize the China International Import Expo (CIIE). This initiative immediately received applause and consensus from countries attending the Forum, including Vietnam.
The CIIE fair is hosted by the Chinese Government and assigned to the Chinese Ministry of Commerce and the Shanghai Municipal People's Government to be held annually in Shanghai city starting in 2018. This is considered a trade promotion event. important trade, with the goal of opening the Chinese market to the world, creating opportunities for countries to access China's large market with over 1.4 billion people, contributing to promoting the "Belt" initiative. and the Road" as well as showing China's steadfast support for the globalization process.
Sharing with our station, Mr. Ho Ngoc Quan, Deputy Director of the Export Support Center, Department of Trade Promotion, Ministry of Industry and Trade of Vietnam, said: China has become one of Vietnam's largest partners. Vietnam, not only in terms of scale but also in the structure of trade between the two sides is shifting positively. The two countries have many similarities in culture, customs, geographical location, and transportation infrastructure, technical facilities, and policy environment are also very favorable.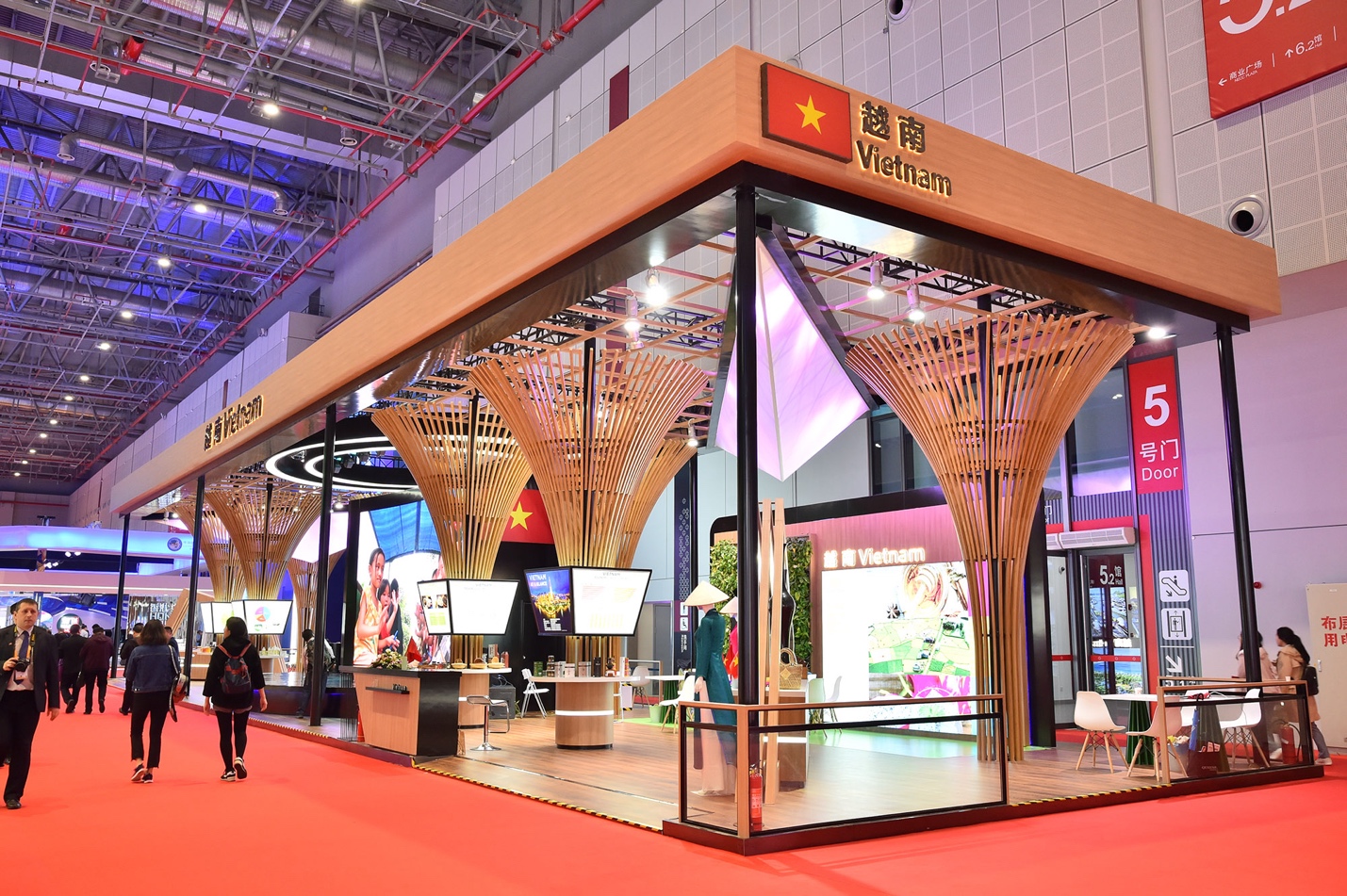 According to Mr. Ho Ngoc Quan, Vietnam's participation in the annual CIIE Fair not only contributes to promoting the country's image in economics – investment and tourism, but is also a good opportunity to contribute to the achievement of goals. Vietnam's economy, specifically implementing the Government's commitment to international economic integration, increasing official and sustainable exports to the billion-people market and reducing the trade deficit rate from this market.
"Participating in CIIE also helps promote the brand and image of Vietnamese businesses to attract foreign investment, creating conditions for Vietnamese businesses to find markets and expand their business," said the representative. Representative of the Department of Trade Promotion said.
Appreciating the role and significance of the Fair, the Ministry of Industry and Trade of Vietnam organizes delegations to continuously participate in Fairs. At the first Fair in 2018, Vietnam was invited by the Chinese Organizing Committee to be one of 12 countries participating in the Fair as an Honorary Country (Asia has 3 countries selected, namely Vietnam , Indonesia, Pakistan). In 2019, the Vietnamese business delegation participated in the Fair with a scale of 400m2, focusing on introducing agricultural – aquatic products and processed foods.
From 2020 to 2022, despite the impact of the COVID-19 epidemic, Vietnam still maintains participation in the CIIE Fair in a flexible and effective manner. In 2023, the Chinese Government has attached great importance and invited Vietnam to be one of 5 countries representing 5 continents to participate in the Expo as an Honorary Country (Asia has 2 countries: Southeast Asia – Vietnam; Central Asia – Kazakhstan; Africa – Republic of South Africa; Europe – Serbia; America – Honduras).
According to the plan, Vietnamese Government leaders will lead a high-ranking Vietnamese delegation to attend the Opening Ceremony of CIIE 2023, scheduled to be held on the morning of November 5, 2023.
At this year's fair, the Vietnam National Pavilion has a scale of 256m2, focusing on introducing and promoting information, achievements and economic potential, promoting investment, trade and tourism of Vietnam. In addition, the booth area of Vietnamese businesses has the participation of 34 businesses displaying specialized agricultural products and processed foods on an area of 400m2. Participating businesses with good export capacity and reputable and quality Vietnamese brands participating this time include Vinamilk, TH True Milk, Trung Nguyen coffee, VISIMEX Luong Quoi Coconut Joint Stock Company, a joint stock company. Bao Hung international division, Bich Chi food joint stock company, Hung Hau Agriculture Joint Stock Company…
In order to strengthen trade promotion activities to directly support Vietnamese businesses on the occasion of CIIE 2023, the Trade Promotion Department also organized 2 trade and investment promotion conferences between Vietnamese businesses. and China in Jiangsu province (November 7, 2023) and Shanghai city (November 9, 2023). It is expected that there will be more than 100 business representatives from the two countries in the fields of import-export, investment promotion, agriculture – fisheries, and consumer goods attending each conference, Mr. Ho Ngoc Quan said.
According to the announcement of the Chinese Organizing Committee, the CIIE 2023 Fair with the theme "New Era, Looking to the Future" has an exhibition scale of over 300,000 square meters including a National Exhibition Area for participating countries and an Exhibition Area. trading with 06 main industries: Smart technology equipment, Consumer electronics, Car industry, Accessories and consumer goods, Agricultural products and Food, Medical equipment and Health care products. This year's fair continues to attract the participation of businesses from 150 countries and territories around the world along with international organizations such as the World Trade Organization (WTO) and the Industrial Development Organization. United Nations (UNIDO), International Trade Center (ITC)…
​Source: https://vietnamese.cri.cn/2023/11/06/ARTIXxX0YPnfksdPhPSCJv88231106.shtml