Representatives from around 130 State and private enterprises operating in various fields in Cuba have attended a trade forum held by Vietnam's Thai Binh Corporation in Havana.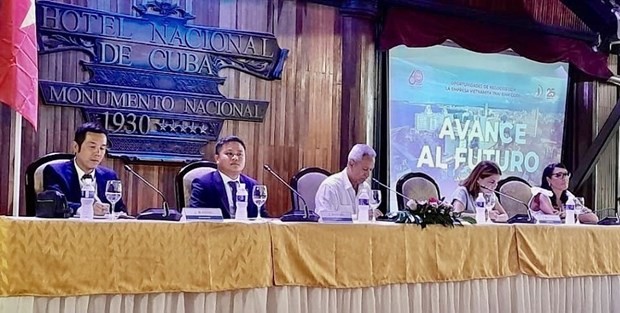 Addressing the forum, President of the Cuban Chamber of Commerce (CCC) Antonio Carricarte affirmed that the event offered a chance to share experience and explore economic cooperation opportunities between the two countries.
It took place in the context that Cuba is focusing on expanding micro-, small- and medium-sized enterprises, and has licensed more than 9,000 of these "new-style economic units", he said, adding Vietnam's experience in developing the private economic sector at this time are very valuable and consistent with Cuba's development model.
Tran Ngoc Thuan, Chairman of the Board of Directors and General Director of the corporation, which has invested in Cuba for 25 years, reaffirmed its commitment to the Caribbean nation's sustainable development by maintaining cooperation with its Government, organisations and businesses, and implementing more projects there.
Representatives from the CCC and the Vietnamese side also answered Cuban companies' questions on numerous issues such as supplying construction materials, food – agriculture, commodities and raw materials for production, and marketing strategies.
Vietnam is currently Cuba's second largest Asian trade partner and the region's largest investor in the Caribbean nation.
Source: