15 Free trade agreements (FTAs) that Vietnam has signed, especially, new generation FTAs ​​will create a breakthrough in trade, bring about a large trade surplus in 2022, and create momentum for growth. the whole period 2022-2023.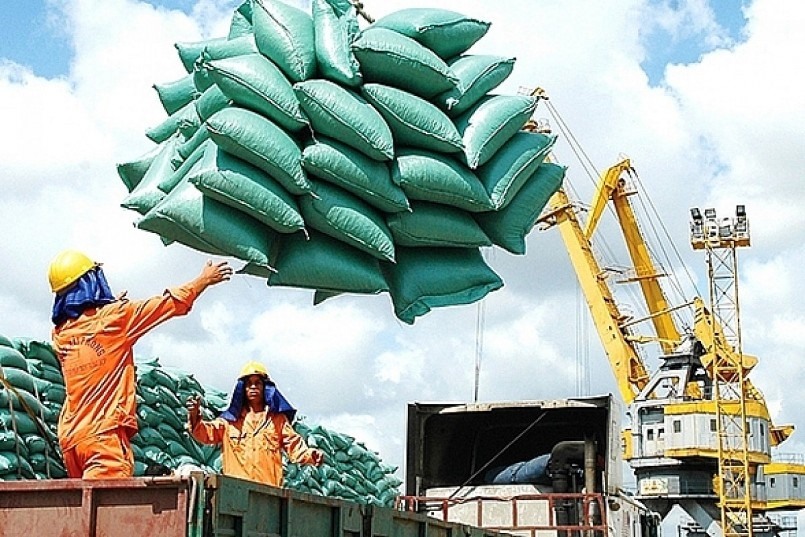 "Explosion" of export value thanks to the impact of new generation FTAs
In the first 4 months of 2022, despite facing many difficulties and challenges, Vietnam's exports still recovered strongly: The total export value of the first 4 months of 2022 reached 122.4 billion USD , up 16.4% over the same period last year.
The above results not only show the efforts of the whole system, especially those of enterprises (enterprises) that have turned challenges into opportunities; resilience of enterprises, flexibility, research and creativity of entrepreneurs and enterprises, but also shows the "strength" of FTAs, especially new generation FTAs ​​such as: The Comprehensive and Progressive Agreement for Trans-Pacific Partnership (CPTPP), the EU-Vietnam Free Trade Agreement (EVFTA), the UK-Vietnam Free Trade Agreement (UKVFTA) and more recently the Agreement on Regional Comprehensive Economic Partnership (RCEP) (effective from January 1, 2022).
According to Mr. Nguyen Chanh Phuong – Vice President of Ho Chi Minh City Fine Arts and Woodworking Association (HAWA), new generation FTAs ​​such as EVFTA, CPTPP …, have supported Vietnam's wood processing industry to boost exports to many markets. increase competitiveness with products of other countries, especially countries without agreements. The results show that, in recent years, export wooden furniture products have increased sharply, led by living room furniture, dining room furniture, followed by bedroom furniture.
According to the survey results in 100 markets by the Center for Industrial Research of Italy (CSIL), in 2022, the global wood furniture market will grow by about 4%.
According to Ms. Nguyen Ha – Tuna market expert of the Vietnam Association of Seafood Exporters and Producers (VASEP), in the first quarter of 2022, Vietnam's tuna exports reached more than US$259 million, up 72% over the same period. period in 2021 and increased 1.6 times compared to the same period in 2019, the time before the outbreak of the COVID-19 pandemic. This is the highest tuna export result compared to the same period in the past 5 years.
The very impressive growth of tuna exports in the first months of this year is in large part thanks to the positive influence of FTAs, in which, EVFTA has helped bring tuna export turnover to the EU in the first quarter of 2022 to reach nearly $38 million, up 33% over the same period last year.
According to Assoc. Prof. Dr. Nguyen Thuong Lang (National Economics University), FTAs ​​are the catalysts promoting bilateral and multilateral trade between Vietnam and strongly developed countries.
"Along with the efforts of enterprises as well as the opportunities that FTAs ​​bring, import-export in 2022 will "boom" and may set a new record of 750 billion USD" – Assoc. Prof. Dr. Nguyen Thuong Lang said.
Many opportunities brought by the FTA have not been fully exploited
According to economic experts, the opportunities that FTAs ​​bring to businesses are huge. However, due to some limitations, enterprises have not taken full advantage of these opportunities. In which, logistics autonomy is considered the biggest "bottleneck".
"Vietnam needs to improve policies and laws on logistics services, build a fleet of super-long and super-heavy ships along with modern logistics infrastructure to meet import-export needs, regardless of the fleet of foreign enterprises. as it is now" – JCI Vietnam President Vu Tuan Anh affirmed.
According to Mr. Tran Thanh Hai – Deputy Director of the Import-Export Department (Ministry of Industry and Trade) affirmed: To take advantage of the advantages that FTAs ​​bring, businesses must clearly understand what advantages the agreement can bring in their fields. , for its items. Thereby, businesses can change the production process, change the supply of raw materials, meet the requirements of the origin of goods and enjoy the preferential tax rates that the FTA brings.
In fact, most of the FTAs ​​mainly focus on cutting tax lines, but many partners still tend to protect through the application of new technical barriers, the other strict requirements (for example, labor issues, environmental protection, origin requirements, input materials…). This leads to, although tariff barriers are reduced, non-tariff barriers are increased, causing many Vietnamese enterprises to face difficulties, if they do not improve business models, upgrade products, services, recycle input supply chain arrangements are still not eligible to enter new markets.
* Thanks to the "push" of FTAs, in the first 4 months of 2022, there were 23 items with export turnover of over 1 billion USD, accounting for 90.1% of total export turnover. In which, the export of aquatic products increased very high by 46.8% over the same period last year, the preliminary value reached 3.6 billion USD; textile and garment increased by 22.2%, reaching 11.8 billion USD; phones and components increased by 13.7%, reaching export value of 20.7 billion USD; footwear increased 12.2%, reaching 7.3 billion USD; machinery, equipment, tools and spare parts increased by 12.1%, reaching 13.7 billion USD; electronic products, computers and components increased by 11.2%, reaching 17.7 billion USD; means of transport and spare parts increased by 8.3%, reaching 3.8 billion USD; wood and wood products increased by 6.7%, reaching $5.6 billion.
In the export of agricultural, forestry and fishery products, coffee increased the highest by 57.1%, with a value of 1.7 billion USD; seafood increased by 46.8%, reaching 3.6 billion USD; pepper increased 28%, reaching 362 million USD; rubber increased by 9.3%, reaching 857 million USD.
* Vietnam is one of the few countries that, after only 15 years of joining the WTO, have negotiated and signed 15 FTAs. According to the Ministry of Industry and Trade, after 3 years of implementing the CPTPP and more than 1 year of implementing the EVFTA, there have been very positive impacts on Vietnam's export activities, especially from markets where Vietnam has never signed an FTA. . Thanks to the CPTPP, goods exports to Canada, Mexico and Peru have grown by 25-30% per year.
* Ms. Le Hang – Deputy Director of the Center for Training and Trade Promotion (VASEP): The advantage of RCEP is the source of raw materials because of the fact, currently the source of raw materials, especially seafood ingredients, is available. 40-50% is imported from abroad. It is an opportunity for seafood enterprises to take advantage and bring into full play their processing capacity and create jobs for workers. Vu Long
Source: https://laodong.vn/kinh-te/xuat-nhap-khau-nam-2022-se-can-dich-700-ti-usd-1046155.ldo?gidzl=cYUi5mr4t76LFgyO05dRTfSrgHyPLDbmZ3VuJXjRYtVQRQeUGmhOS81hg1eO3jWctcF_Ip2WL49V24FVUW