Agricultural products exported through the border gate in Lao Cai in recent times have mainly been dragon fruit, durian, watermelon, mango…
The value reached over 432 million USD
According to statistics from Lao Cai International Customs Branch, agricultural export turnover from the beginning of the year to October 15 through Kim Thanh International Road Border Gate No. II reached over 432 million USD, an increase of 378.42% compared to with the same period last year.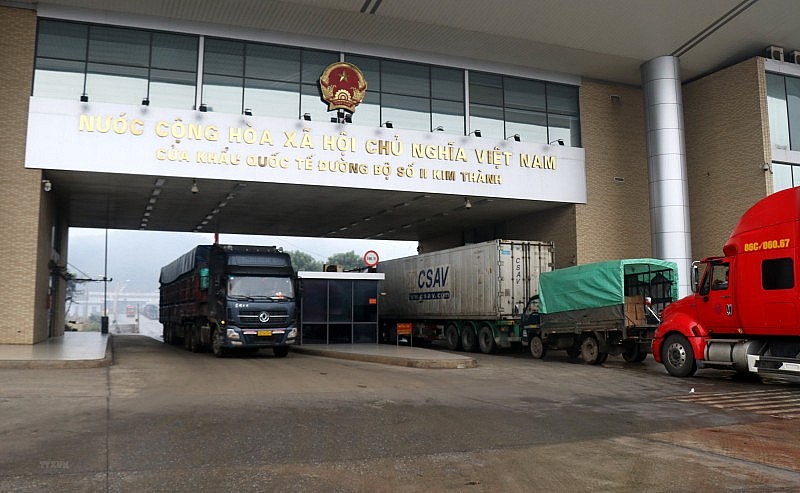 The sharp increase in agricultural export turnover is due to the addition of a number of products by the Chinese side to the list of imported agricultural products. Thus, in addition to traditional products such as dragon fruit, bananas, watermelons, lychees, mangoes… maintaining stable customs clearance, from the beginning of the year until now there have been more durians, with output and price. Turnover value increased sharply.
Notably, at Kim Thanh international border gate No. 2, Lao Cai province, there are currently 50-80 vehicles carrying durian for export every day. This is a record high number ever at this border gate. Each container is worth nearly 2 billion VND, 4-5 times higher than traditional export fruits.
According to data from the General Department of Customs, in the first 8 months of 2023, durian exports earned nearly 1.3 billion USD, leading the export turnover of fruits and vegetables. With this export momentum, the Vietnam Fruit and Vegetable Association forecasts that durian exports in 2023 are likely to bring in 1.6 – 1.7 billion USD.
As for the Chinese market, Vietnam will start official exports in 2022 after the Protocol was signed in July 2022.
To date, Vietnam has 422 growing areas and 153 packaging facilities approved by the General Department of Customs of China. In addition, there are 64 growers and 15 packaging facilities that are in the process of completing documents as required by the Chinese side to be able to be granted codes. In addition, there are more than 600 remaining planting area codes and more than 50 packaging facilities that the Plant Protection Department is preparing to send to China Customs for approval.
Durian is forecast to continue to set export records as there is increasing investment in high-standard growing areas for export to China and many other demanding markets. Besides, currently only Vietnam has fresh durian for sale. Therefore, it is forecast that this year, durian exports to China may exceed 1 billion USD. This is an opportunity for agricultural exports in general and fruit and vegetable exports through border gates with China, including Lao Cai border gate, to continue to prosper.
To date, there are a total of 590 businesses participating in import and export activities through Kim Thanh International Road Border Gate No. II. Currently, on average every day there are about 350 – 400 vehicles transporting import and export goods through the border gate.
In addition to durian, the main export goods are still traditional products such as all kinds of peeled wood, dragon fruits, all kinds of cassava, green bananas, shoes… Imported goods are mainly agricultural products, plastics, plastic products, iron and steel and iron and steel products, machines and mechanical equipment, fertilizers, chemicals, coke, electricity…
Continue to create favorable conditions for agricultural exports
Although there have been many efforts in recent times, import and export activities in the first 9 months of this year through Lao Cai border gate still face many difficulties, the flow of goods is much lower than before the event. COVID-19 epidemic.
To support the export of Vietnamese agricultural products, the Management Board of Lao Cai Economic Zone has directed interdisciplinary forces at Kim Thanh Road Border Gate such as Customs, Border Guard, and Plant Quarantine to coordinate closely. closely and continuously, creating the most favorable conditions for businesses and shippers exporting agricultural products to China. Previously, a fruit cart had to complete 4-5 documents related to plant quarantine, now it is reduced to just 1 type of document.
In addition, the Special Branch attaches special importance to the reform of administrative procedures and modernization of customs; Strengthen coordination with relevant agencies to support businesses in exchanging, connecting and promoting cooperation to promote import and export.
With the goal of taking people and businesses as the center and taking the satisfaction of people and businesses as the goal to strive for, Lao Cai Border Gate Customs Branch determines to regularly organize dialogue conferences, Consulting and supporting businesses with the motto of listening, understanding, sharing and collaborating. Along with that, we focus on propagating and disseminating the law to create maximum conditions to support businesses in implementing customs laws in accordance with regulations, limiting errors in import-export business…
In addition, the Vietnam – China Lao Cai International Trade Fair is expected to take place for 6 days (November 10 – 15), at Kim Thanh Exhibition and Convention Center, Duyen Hai ward, Lao Cai city, Lao Cai Province. This will be a great opportunity for businesses to promote trade, find partners in the Chinese market, and promote import and export through border gates.
Source: https://congthuong.vn/den-giua-thang-10-xuat-khau-nong-san-qua-cua-khau-tai-lao-cai-tang-hon-378-280170.html