The Mekong Delta province of Bac Lieu is striving for over 1 billion USD in shrimp export revenue this year, said Chairman of the People's Committee of Bac Lieu Pham Van Thieu.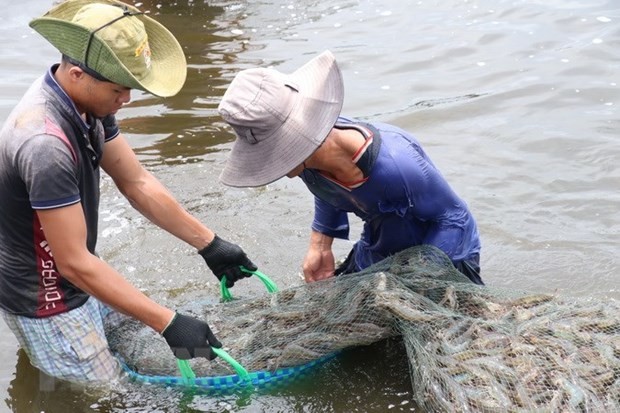 Together with rice and salt, shrimp is one of the three major export products of Bac Lieu, which contributes 95% to the locality's total export revenue, Thieu said at a conference on October 20.
The official said that the province aims for 1.3 billion USD in shrimp exports in 2025 and 1.7 billion USD in 2030.
He noted that in the first nine months of 2023, Bac Lieu earned 676 million USD from exporting shrimps, mostly frozen shrimps, which represented a rise of 7.19% year on year.
Currently, the province has 48 aquatic processing facilities with a combined capacity of processing 294,000 tonnes per year.
Bac Lieu shrimps have been available in many countries, including choosy ones like the US, Japan, the EU, China and the Republic of Korea.
However, Thieu also pointed to a number of difficulties that Bac Lieu is facing in shrimp exports, including decrease in demands and increase of prices of input materials.
Director of the Trade Promotion Agency Vu Ba Phu said that last year, Vietnam earned a record shrimp export revenue of 4.3 billion USD, up 11% year on year.
However, recently, the shrimp sector has faced many difficulties, he said, adding that the agency is working to support businesses in developing production and expanding export markets.
Truong Dinh Hoe, General Secretary of the Vietnam Association of Seafood Exporters and Producers (VASEP), advised businesses to increase the supply of organic and sustainable products, and optimise advantages from the EU-Vietnam Free Trade Agreement (EVFTA) to promote exports.
Source: Bac Lieu aims for over 1 billion USD in shrimp exports this year | Nhan Dan Online