Prices of bananas and durians at gardeners are increasing by 20-100% compared to two months ago thanks to the "open door" to China.
VnExpress's records show that bananas sold at home gardeners in Dong Nai and the northern provinces are at VND 13,500-14,000 per kilogram, double that of two months ago. Durian prices in Cai Be (Tien Giang) also fluctuated from 80,000-85,000 VND per kg, up 22% compared to October (when the price was low).
Mr. Thanh – a gardener in Dong Nai – said that for more than a week, the price of bananas has been continuously reported by traders to increase. "The price of bananas has doubled compared to before, helping growers make a profit of 5,000-6,000 VND per kilogram," Thanh said.
Owning two hectares of durian in Tien Giang, Toan thinks that this is the first year he sells to traders at a record high price. "Over the past month, durian according to our VietGAP standards has been sought by traders. The price per kg is up to 80,000 VND – the highest level in the past 5 years", Mr. Toan said.
Reports of durian exporters show that the purchase price of Ri6 durian varieties, green flower size, and cow sheds are all over 80,000 VND per kg, and Monthong 95,000-100,000 VND. For durian grade 2 or 3, the selling price for domestic consumption is about 50,000 VND per kg.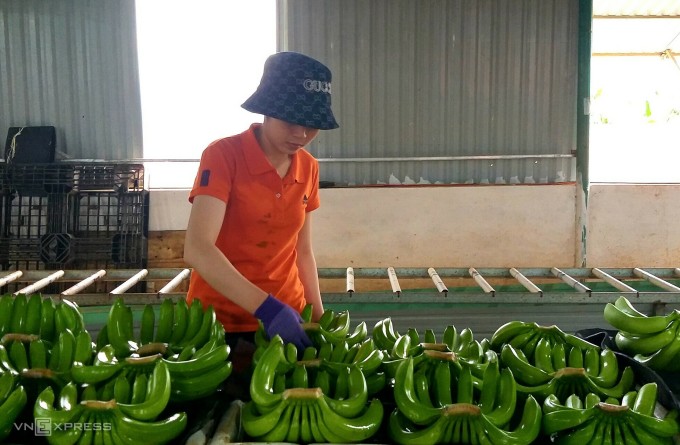 The Department of Agricultural Products Processing and Market Development also said that fruit prices have fluctuated continuously in recent months. In addition to bananas and durians, red dragon fruit is being sold for 22,000 VND per kg, white flesh is 16,000 VND. In addition, sand mango, rambutan longan also increased sharply compared to the same period last year.
According to Chanh Thu Fruit Import and Export Co., Ltd., after China officially opened the door for Vietnamese fresh durian fruit for official export, this company has exported more than 1,000 tons to this country. Currently, the demand in the Chinese market is still high and the price is attractive, but the supply for official export is still modest.
Similarly, Hoang Anh Gia Lai Joint Stock Company said that at the end of October, the Protocol to officially export fresh bananas from Vietnam to China was signed, creating favorable conditions for export activities. In addition, the winter demand for bananas in China increases, while the harvested area in this country is affected by the weather, so they increase imports.
Mr. Dang Phuc Nguyen – General Secretary of the Vietnam Fruit and Vegetable Association (Vinafruit) – also said that there are two main reasons for the continuous increase in fruit prices. The first is thanks to China opening up its export market and increasing imports for Tet. Secondly, Vietnam has just signed a series of export protocols to this country with agricultural products such as bananas and durians, causing a sharp increase in the purchasing power of agricultural products. In addition, the decrease in the domestic supply of this commodity due to the influence of the weather also made the price continuously go up.
Experts predict that in the last month of the year and the first quarter of 2023, the prices of these agricultural products will increase when the demand for holidays and Lunar New Year this year increases sharply. In particular, in the coming time, if Vietnam well implements the contents of the Protocol to help reduce the rate of phytosanitary inspection at border gates and expedite customs clearance, agricultural exports will achieve many positive results.
According to information from the Plant Protection Department, the country's banana area is about 154,000 hectares, with an output of more than 2.3 million tons (accounting for about 14.5% of the country's fruit tree area). In the North, banana area is estimated at 70,000 ha, output 1.2 million tons; The whole South has 83,800 hectares, with an output of 1.1 million tons. In the coming time, the Department of Crop Production plans to develop about 165,000-175,000 hectares of bananas with an output of 2.6-3 million tons.
As for durian, the total area of the country is up to 90,000 hectares with an annual output of about 1.3 million tons of fruit. Of which, nearly 3,000 hectares and about 68,000 tons of durian have been granted a planting area code by the General Administration of Customs of China.
Source: https://vnexpress.net/chuoi-sau-rieng-tang-gia-manh-4547669.html?gidzl=pxy0VeGIbrp2fWDwXWsIMyQl1dcR0fCDYg5NAfqAnb_NfGLxbboHKj3mLNV0NiDLrVHH9pbpcgKGZXITMm