VOV.VN – In 2023, Ben Tre province will continue to improve product quality, especially key agricultural products, to serve the needs of foreign partners.
Ben Tre province exported goods with a turnover of more than USD 1,500 million in 2022, an increase of nearly 20% compared to the previous year and reaching more than 100.6% of the plan. Ben Tre's export products increased sharply such as: aquatic products of all kinds increased by 14%; desiccated coconut increased by more than 4%; coconut milk increased by nearly 39%; textiles increased by 52.7%; handbags increased by 77% compared to 2021.
Currently, in Ben Tre province, there are about 150 enterprises with export products with increasingly expanding markets, more than 130 countries and territories around the world. Last year, the main export market was Asia with US$607 million, the Americas with US$453 million, Europe with US$143 million, the rest were Oceania and Africa.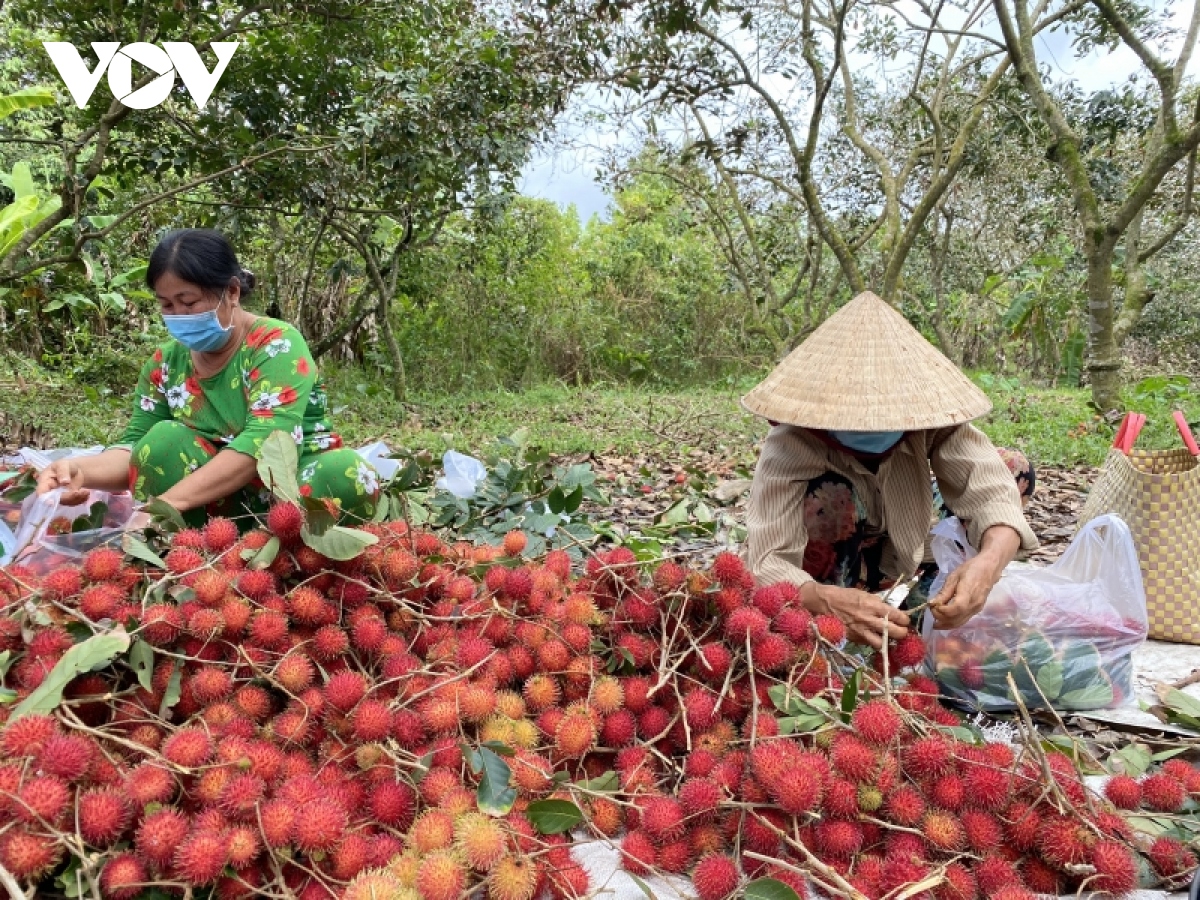 Through the statistics of the Department of Industry and Trade of Ben Tre, last year, the production value of the coconut processing industry reached about 3,650 billion VND, accounting for 10% of the industrial production value of the whole province. The export turnover of the coconut industry reached $ 400 million, an increase of more than 17% compared to 2021 and accounting for nearly 28% of the province's export turnover. Notably, in 2022, Ben Tre exported the first batch of pomelos to the US market. Up to now, the locality has 3 products including: Grapefruit, longan, and rambutan exported to the United States.
Before the event that the first batch of pomelos was exported to the United States, the functional departments of Ben Tre province had specific instructions for growers to expand the pomelo growing model in an intensive direction, aiming to export key products to Vietnam. this potential market.
Mr. Vo Thanh Nhan, gardener in An Khanh commune, Chau Thanh district, Ben Tre province shared: "Grapefruit grown to meet export standards is actually not difficult, because the standard for export is no pesticide residues. inside the pomelo, there is no pest infection. In general, those standards are from Global GAP, Viet GAP farmers have already done, growing under GAP is just organic farming that farmers have done. The important thing is the awareness that people do the right process, so it's not difficult, it's okay."
Source: https://vov.vn/kinh-te/ben-tre-day-manh-xuat-khau-nong-san-trong-nam-2023-post994065.vov