Mangosteen, mango and rambutan prices increased two or three times over the same period last year, helping growers to be profitable again after three years of the epidemic.
Recorded at the fruit shop in Ba Chieu market (Binh Thanh) shows that the price of mangosteen tripled to 230,000-250,000 VND per kg. Prices of rambutan, Hoa Loc mango and banana doubled, reaching 70,000 VND, 130,000 VND and 25,000 VND per kg, respectively. Durian alone increased by 20% compared to the main crop, to 90,000-120,000 VND per kg.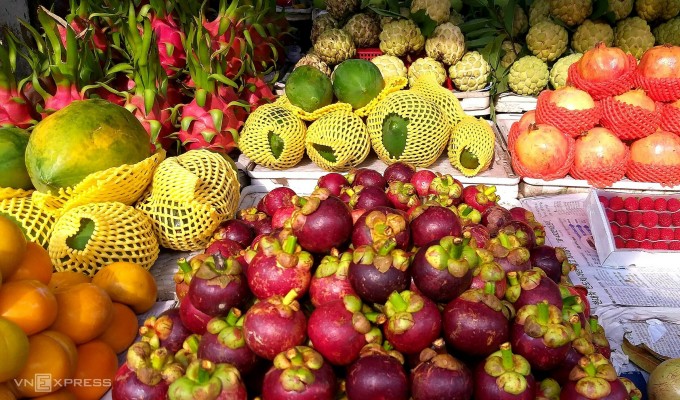 According to Ms. Loan, a small trader at Xom Moi market (Go Vap), for two weeks now, Hoa Loc mangoes have been continuously quoted by traders with increased prices. "Last week, grade 1 sand mango was priced at 90,000 VND, now it is 110,000 VND," said Loan, adding that, in addition to this item, most Vietnamese fruits have increased in price by 10-20% compared to the same period last year.
The report of the Ministry of Agriculture and Rural Development also shows that the price of red flesh dragon fruit and Hoa Loc mango has increased by 2,000-3,000 VND compared to the previous week, to 23,600 VND and 59,600 VND per kg. Ri6 durian grade 1 has a selling price of 86,000 VND per kg at the garden, the highest in the past 5 years.
Thanks to the high prices of many fruits, growers in the Mekong Delta said they were profitable again after three years of losses due to the impact of Covid-19.
Mr. Hung, from Dong Thap, said he was selling Hoa Loc mangoes at the garden for 50,000-80,000 VND per kilogram (depending on the type). "It is estimated that this year's crop after deducting expenses, my family can earn a profit of nearly half a billion dong," said Mr. Hung.
Households growing longan, rambutan, jackfruit and banana in Ben Tre, Dong Nai and Long An are also very excited when the selling price increases sharply compared to the production cost. According to farmers here, each kilogram of longan, after adding all input costs, costs about 10,000 VND, now sold to the market at 22,000 VND, making each hectare more than 200 million VND in profit.
Meanwhile, households growing bananas, jackfruit and rambutan earn about 100-150 million VND per hectare. Particularly, durian growing households in the West earn a profit of 600-800 million VND per hectare (because this time is harvesting in the off-season, the price in the garden has increased to 80,000 VND per kg).
Explaining the sharp increase in fruit prices, the Tien Giang Department of Agriculture and Rural Development said that a series of information about Vietnamese fruits being officially exported to China was one of the positive factors that helped increase the prices of durian and banana. High.
In addition, according to fruit traders, due to off-season goods and low supply, prices kept going up. If compared with the same period last year, this year the output of many kinds of fruits decreased by 10-20%.
Source: https://vnexpress.net/nhieu-loai-trai-cay-tang-gia-gap-ba-lan-4539627.html?gidzl=FJXwIWWtLZim8NbE2YXJF3GeVaON9r1XU2Ol5H4l1JCb8dr46dbIFY9tBKXCUm0v9tCf63aDE1v30Z5SF0