From the beginning of 2023 until now, the export situation of many agricultural products in the province is quite positive. However, farmers and businesses need to continue to improve the quality and ensure product traceability to meet the increasing requirements of export markets.
Lots of positive signals
In the first months of 2023, rice is one of the agricultural products with high export output of the province. Director of Long An Department of Industry and Trade – Nguyen Tuan Thanh informed: "Over the past time, the situation of rice production and export in the province has developed quite well. By the beginning of May 2023, enterprises exported over 340,000 tons of rice with a value of about 180 million USD, equal to the first 6 months of 2022. According to the assessment of the Industry and Trade industry as well as the Vietnam Food Association, currently, The supply is not enough, so the price of rice increases and in the coming time, rice export volume will continue to increase."
There are 26 rice exporters across the province. In which, there are 3 enterprises that can export rice directly to China, including: Tan Dong Tien Joint Stock Company, Viet Thanh Co., Ltd., Duong Vu Co., Ltd. In addition, there are 3 branches of the company that can export rice with warehouses, milling facilities and 1 company renting warehouses and milling facilities.
A representative of Duong Vu Co., Ltd (Binh Thanh commune, Thu Thua district) said that the company specializes in purchasing, milling and exporting rice. On average, the company exports about 60,000-70,000 tons of rice every month, of which, mainly exports to the Chinese market.
Besides the advantages of rice production and export, some key agricultural products of the province also have positive signs in terms of prices and consumption markets, especially after China "opens up" again. , products such as dragon fruit, lemon, jackfruit, watermelon, etc. are exported stably with high prices, creating excitement for farmers.
According to data from the Import and Export Department (Ministry of Industry and Trade), Vietnam's dragon fruit export value has decreased for 3 consecutive years since 2019. Specifically, dragon fruit export turnover in 2022 reached 663 million USD, down 37% compared to 2021 and down 50% compared to 2019, due to China tightening Covid-19 quarantine activities on imported goods. This leads to sharp fluctuations in the price of dragon fruit when dragon fruit is too dependent on the Chinese market.
Facing that situation, the province's dragon fruit consumption also faces common difficulties. Since China removed the Zero Covid policy and opened its borders, goods have also been traded more easily than before. The price of dragon fruit has also increased, bringing profits to people and businesses. Currently, the price of red flesh dragon fruit ranges from 20,000-35,000 VND/kg.
Chairman of the Provincial Dragon Fruit Association – Nguyen Quoc Trinh said: "Currently, the largest market for exporting dragon fruits of the province is still China. Therefore, growers need to change production practices, focus on building codes (MS) of growing areas, focus on clean production in the direction of GAP, GlobalGAP and especially pay attention to new regulations of the export market. password".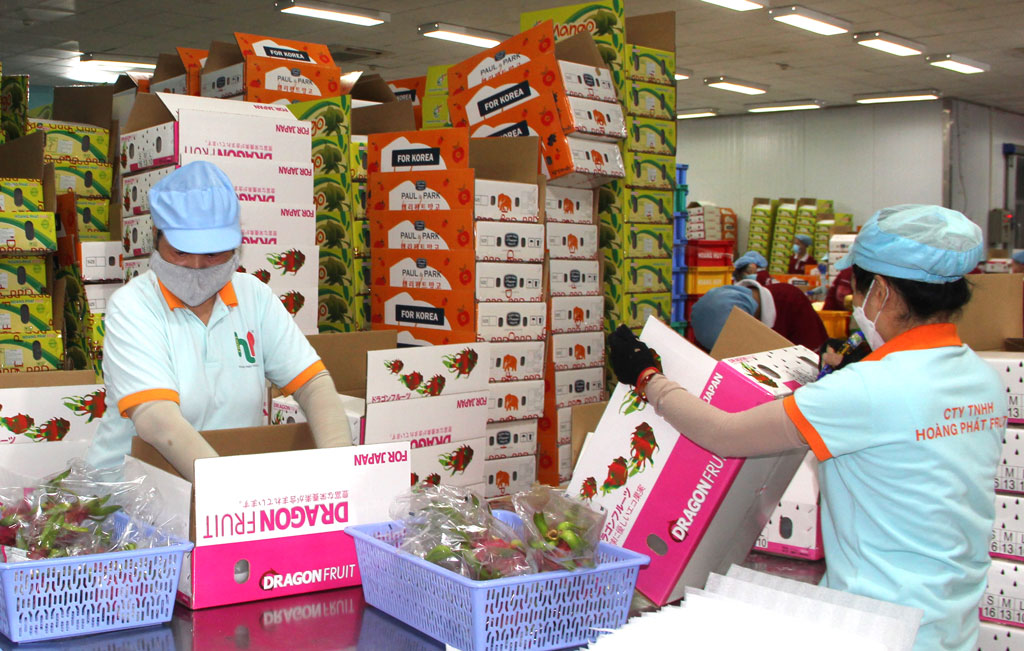 Information from the Agriculture and Rural Development Department of Ben Luc district, the whole district currently has over 1,880ha of high-tech lemons, produced in the direction of GAP, eligible for export to the European market, with an output of nearly 15,000 tons/year through The Fruit Republic Company (Netherlands).
Director of Agricultural Service Cooperative of Ben Luc district – Tran Duy Thuan said: "The Fruit Republic Company signed a contract to consume all products for the cooperative with an area of 100ha. At the same time, the company also provides agricultural materials in advance with prices 5% lower than the market. This opens up many opportunities for lemon growers."
Head of Agriculture and Rural Development Department of Ben Luc district – Le Van Nam shared: "The orientation of the lemon export company is very clear in branding, since many years have directly guided farmers in techniques. Cultivation, change the traditional way of production, most lemons meet GlobalGAP standards or GAP direction, eligible for export to the European market. In particular, the price of lemons purchased by the company is 3,000-5,000 VND/kg higher, thereby changing the way of thinking and doing of many lemon growing households in the district.
Continue to improve the quality of agricultural products
Up to now, the province has over 2,600ha of crops of all kinds produced according to VietGAP, GlobalGAP standards,… Along with that, the whole province has 270 turns of planting areas with a total area of over 13,445ha. Specifically, dragon fruit 226 MS; banana 2 MS; watermelon 13 MS; mango 2 MS; lemon 25 MS; Durian 2 MS. The number of fruit packing establishments granted MS is 147 with agricultural products such as bananas, lemons, dragon fruits, … to export to markets such as China, USA, New Zealand, Japan,…
In addition, the province also successfully built the geographical indication "Chau Thanh Long An" for dragon fruit, the instruction "Ben Luc Long An" for seedless lemon products; cooperated with CIPTEK Intellectual Property and Technology Research Center to complete the application for protection of the certification mark "Ben Luc Long An Seedless Lemon" in the United Arab Emirates (UAE).
According to Deputy Director of Department of Agriculture and Rural Development – Nguyen Chi Thien, in order to bring agricultural products of the province to reach far, the Agriculture sector continues to guide localities to review and plan specialized production areas. medium and stable for key crops with high economic value, suitable to the conditions of each region; apply science and technology to production to meet export standards. At the same time, mobilize people to actively change crop structure, build large fields, apply clean and safe agricultural production according to VietGAP, GlobalGAP standards; forming linkage chains in production to have a large quantity of high quality products.
Recently, the delegation of the Department of Industry and Trade of Lao Cai province and the Department of Commerce of Chau Hong Ha, Yunnan province (China) came to survey and connect trade with enterprises producing, processing and exporting agricultural products in Vietnam. province area. Along with that, the provincial Department of Industry and Trade signed a memorandum of understanding with OSB on supporting businesses in the province to boost exports through e-commerce.
"In the coming time, the Department of Industry and Trade will continue to support the export activities of agricultural products of the province by providing information about export markets to enterprises and associations. In addition, the Department coordinates inspection of enterprises, especially rice exporters to warehouses and mills to ensure the quality of rice for export markets. In addition, the Department continues to support organizations and businesses through trade promotion programs, including e-commerce promotion and international food and food fairs and exhibitions" – Mr. Nguyen Tuan Thanh more information
Source: https://baolongan.vn/khoi-thong-thi-truong-xuat-khau-hang-hoa-nong-san-a155858.html