TCDN – Lemon and pomelo are the next two agricultural products of Vietnam that have the opportunity to be exported to the New Zealand market, after mango, dragon fruit and rambutan.
Vietnam's Ministry of Agriculture and Rural Development and New Zealand's Ministry of Agriculture, Biosecurity, Land Information and Rural Affairs have signed an agreement to open the export market of Vietnamese lemons and pomelos to New Zealand.
The signing ceremony took place on the occasion of the visit of New Zealand Prime Minister, Ms. Jacinda Ardern to Vietnam.
The signing of the market opening agreement with two agricultural products is a stepping stone towards the next trade opportunities between the two countries, opening the market for other agricultural products.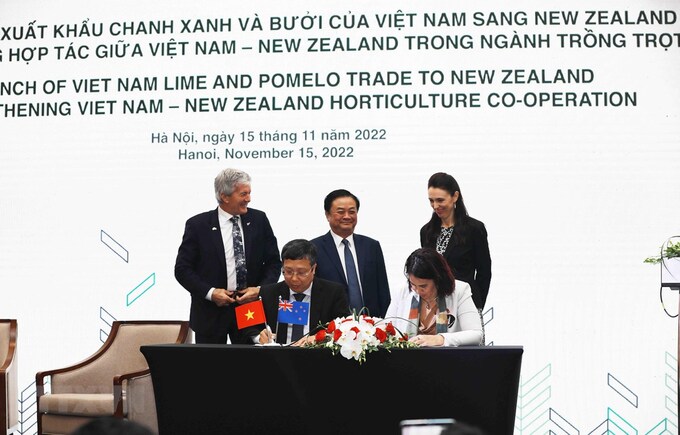 Previously, mango, dragon fruit and rambutan… were exported to New Zealand. The two countries will continue to promote market opening for other agricultural products.
Speaking at the event, New Zealand Prime Minister Jacinda Ardern shared: "New Zealanders especially love fruits and oranges and lemons. I know there will be a lot of New Zealanders happy because they will now have lemons to eat all year round when Vietnam offers this fruit at an off-season in New Zealand. I also look forward to seeing New Zealand's favorite restaurants creatively incorporate fruits like grapefruit, rambutan and dragon fruit on their menus."
Prime Minister Jacinda Ardern also expressed joy that New Zealand was committed to building a trading system that benefits everyone, promoting its role as a country that exports high-quality, safe and sustainable food. sustainable for the world. In that effort, New Zealand is not alone and considers Vietnam an important partner in this mission.
Minister of Agriculture and Rural Development Le Minh Hoan also said that cooperation in agriculture is an important pillar in the cooperation relationship between Vietnam and New Zealand. Vietnam highly appreciates New Zealand's interest in the agricultural sector, focusing on knowledge and technology transfer in the following areas: Agricultural market development; high quality plant varieties; animal and plant quarantine; dam safety and reservoir operation; food safety; reduce greenhouse gas emissions in livestock…
According to statistics from the Ministry of Agriculture and Rural Development, the trade turnover of agriculture, forestry and fishery products between Vietnam and New Zealand in 2021 will reach nearly $550 million, accounting for 41% of the total bilateral trade turnover. . The two sides signed an agreement to facilitate the clearance of agricultural, forestry and fishery products through the use of electronic certificates in July 2020.
Currently, the working groups of the two countries are taking steps to test the electronic certification system. At the same time, promote market opening procedures for agricultural products.
Source: https://taichinhdoanhnghiep.net.vn/chanh-va-buoi-viet-nam-chinh-thuc-xuat-sang-new-zealand-d34416.html