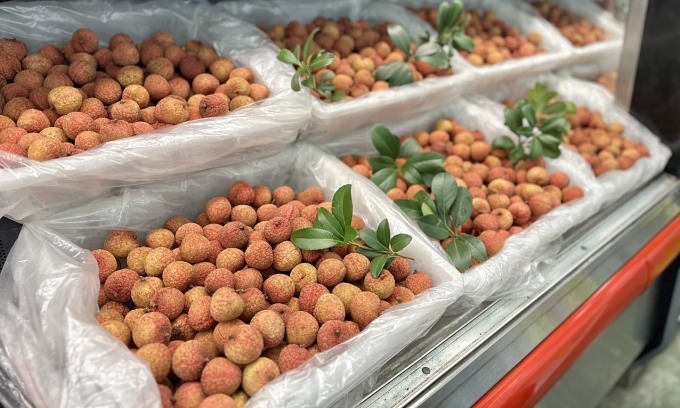 The first batch of fresh lychee has arrived in the US, opening up great opportunities for Vietnamese specialties and other fruits to conquer the fastidious market.
Thanks to the cooperation between importer LNS International Corporation and distributor L&V Food Supply Company in Houston, Texas, fresh lychee grown in Bac Giang province – known as Vietnam's fruit kingdom, is now on the shelves. products from many large and small supermarkets. Asian market in Houston.
Chinh Nguyen, CEO of L&V Food Supply, said her team and LNS International Corporation are working on a plan to import large shipments of Vietnamese food and fruit into the US this year.
"After 3 shipments of fresh lychees (about 9 tons) to the US in June, we plan to import frozen lychees (about 2 containers per month, equivalent to about 30 tons)," she said.
"If the Vietnamese supplier guarantees enough qualified goods, we will import three more shipments (80-90 tons) this year."
This success demonstrates the efforts of Vietnamese ministries and branches, including the Ministry of Industry and Trade, in trade promotion to bring Vietnamese agricultural products to demanding markets such as the United States and the European Union.
According to the Ministry of Agriculture and Rural Development, among the agricultural, forestry and fishery products of Vietnam, the United States buys the most cashew nuts, seafood, wood and fruits.
The US Department of Agriculture forecasts that the US will import agricultural products worth up to 199 billion USD this year, 5 billion USD higher than last year, opening up opportunities for Vietnam's agricultural, forestry and fishery exports.
Last year, U.S. fruit and vegetable imports hit a record high of more than $31 billion, including $19.3 billion = fresh and frozen fruit, up 10 percent from 2021. Most of the goods. These imports come from Canada, Mexico, and several countries in Central and South America.
In addition to Vietnam, the US also imports lychees from China, India and Thailand. Bac Giang lychee is favored by domestic consumers for its quality.
Vietnamese Trade Counselor in the US Do Ngoc Hung pointed out that Vietnamese fruit has a lot of room in the US market.
However, Vietnamese agricultural products and lychee still face difficulties in accessing the market due to the long geographical distance, high cost of irradiation and transportation.
The Vietnam Trade Office in Houston requested the relevant associations and businesses of Vietnam and the United States to exchange information and coordinate to support import and export activities.
In particular, businesses need to make long-term commitments, ensure good coordination between exporters, importers and distributors for large shipments, exchange market information and share responsibility and risks. with partners, creating a healthy competitive environment, Mr. Hung said.
He also suggested strengthening product promotion to introduce Vietnamese fruits to other communities in the US besides Asian consumers.
Source: Fresh lychee conquering US market – VnExpress International