(PetroTimes) – According to the Vietnam Fruit and Vegetable Association, even though it has not been 6 months, the export of vegetables and fruits reached nearly $2.8 billion, up more than 63% over the same period and nearly equal to the export turnover of the whole of last year.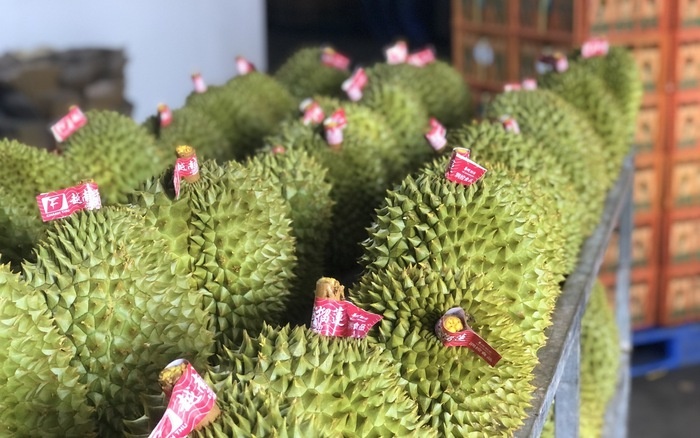 In June 2023 alone, exports reached over 723 million USD, an increase of more than 79% over the same period in 2022.
In the group of exported fruits, durian is the item with the strongest increase. Accordingly, in May 2023, durian export value reached the highest level ever, with 332 million USD, more than 10 times higher than the previous month. In general, in the first five months of 2023, durian exports reached more than US$503 million, more than 18 times higher than the same period last year (US$27.6 million).
In which, the export of durian fruit to China amounted to 477 million USD, accounting for 95% of the total export value of this commodity group of the country. Thus, durian officially surpassed dragon fruit, becoming the product that brings the greatest value in Vietnam's fruit and vegetable products.
In the Top 10 largest fruit and vegetable export markets of Vietnam, China leads with nearly 63.5% market share, up more than 12.4% over the same period last year (turnover reached nearly 1.3 billion USD in 2018. first 5 months of the year). Followed by the Korean, Japanese, and Dutch markets all grew well, only the US market decreased by 12% over the same period.
According to businesses, Vietnamese fruit and vegetable exports increased thanks to China's increased purchase. In particular, the Protocols signed with this country last year have helped Vietnam's fruit and vegetable export activities have many advantages. This year, although China strictly controls technical barriers, food safety and hygiene, Vietnamese goods are increasingly high in quality and competitive in price, so they are favored by consumers.
Mr. Dang Phuc Nguyen – General Secretary of the Vietnam Fruit and Vegetable Association – said that this is the year that the export turnover of vegetables and fruits has a sudden growth and can set a record ever. It is forecasted that fruit and vegetable export can reach the target of 4 billion USD.
Although exports are quite favorable, however, according to the Ministry of Agriculture and Rural Development, the requirements of international markets are increasing, in which, neighboring markets of the US and EU are developing more new products. tropical agricultural products, so the competitiveness is very high. Therefore, in addition to ensuring quality, Vietnamese agricultural products should aim to develop modern processing technology, suitable for small and medium scale.
In addition, people also need to focus on planting crops according to the orientation of local authorities, helping to focus on planting areas, improve processing rates and meet the needs of product diversification.
Source: https://petrotimes.vn/xuat-khau-rau-qua-tang-dot-bien-mang-ve-gan-28-ty-usd-687857.html