Japan is one of the most difficult markets in the world, but many agricultural products of Hai Duong are still being exported to this market with increasing output, in which Thanh Ha lychee is playing a key role.
This is the information emphasized in the meeting and working session of the leaders of Hai Duong Province People's Committee with the Japanese business delegation to visit and survey the lychee export area of Japan in Hai Duong, on June 15.
Creating favorable conditions for Japanese businesses to purchase and consume
At the meeting and working with the Japanese business delegation, Vice Chairman of Hai Duong Provincial People's Committee Tran Van Quan affirmed that Hai Duong province always creates all favorable conditions for Japanese businesses to purchase and bring lychee to the country. This. He wants businesses to work closely with domestic companies and units to promote and consume Hai Duong lychee in Japan.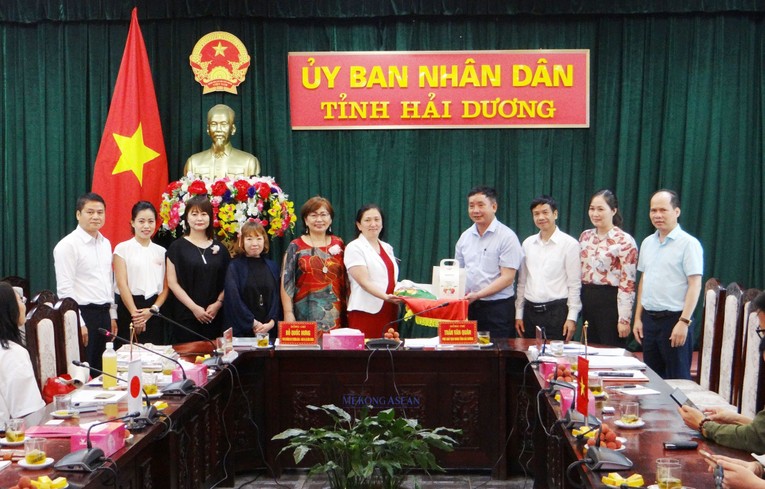 At the same time, Vice Chairman of Hai Duong Provincial People's Committee asked Japanese businesses to support Vietnamese enterprises in processing and preservation technology so that when lychees come to Japan, they can ensure quality. Hai Duong province will have mechanisms and policies to support Japanese enterprises in processing and consuming agricultural products, especially lychee.
Deputy Director of the Asia – Africa Market Department (Ministry of Industry and Trade) Do Quoc Hung said that the consumption demand of the Japanese market in general and especially for lychee is very large. However, according to statistics, Hai Duong's lychee exports to this market are still modest. In the coming time, the unit will continue to work closely with Hai Duong province to increase the amount of lychee exports to Japan through measures such as continuing to expand the growing area, improving quality, design, and ensuring standards. import markets…
"The Industry and Trade industry will work with Hai Duong to promote trade promotion activities and promote lychee in the Japanese market. In addition, coordinate to expand products, not only exporting fresh lychee, but also expanding products processed from litchi, "said Mr. Do Quoc Hung.
At the meeting, Japanese enterprises highly appreciated the quality of Thanh Ha lychee fruit. Ms. Sadahiro Mari, General Director of A-world Company introduced the technology of fermentation of fruits being applied by enterprises in production in Japan.
Businesses hope that in the near future, they can apply the lychee fermentation technique to process fresh lychee into many other products such as juice, wine, and cosmetics. In addition, in order to process clean products from nature and protect and preserve perennial fruit trees, Japanese enterprises hope that in the future, they will have the opportunity to cooperate with Hai Duong province in processing products from Hai Duong province. lychee fruit…
As one of the Vietnamese enterprises with many years of exporting agricultural products to the European market, Mr. Pham Ngoc Thuc, Chairman of the Board of Directors of FUSA Organic Agriculture JSC, said that preserving litchi is still a difficult problem. He hoped that after the survey program, he would have the opportunity to cooperate with Japanese enterprises in processing lychee for export.
39 planting area codes exported to Japan
According to Director of Hai Duong Department of Industry and Trade, Tran Van Hao, in 2023, the province's lychee production will reach about 60,000 tons; consumed nearly 50% domestically and over 50% exported. Of which, about 40% are exported to traditional markets including China, Laos, Cambodia, Malaysia… The rest, about 10% are exported to high-end markets such as Japan, UK, USA, Australia…
Hai Duong currently has 2 packing facilities and 39 growing area codes for export to the Japanese market with an area of ​​nearly 500 hectares with an output of over 3,300 tons.
Previously, after a long time of technical negotiations, on June 24, 2021, for the first time, Hai Duong litchi was exported to Japan with about 500 tons. In 2022, Hai Duong's lychee exports to Japan increased more than the previous year because Japanese and Vietnamese businesses actively worked together since early; export volume to Japan reached nearly 1,000 tons.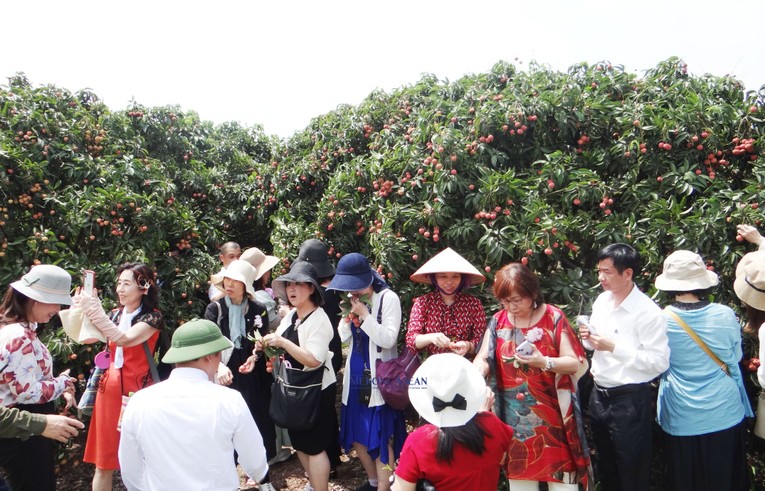 In addition, with the support of the province, in 2022 Aeon Topvalu Vietnam Co., Ltd. has exported more than 23 tons of fresh lychees to the Japanese market, the products are sold at 350 stores of AEON Group in Japan. . In particular, in the annual Vietnam Goods Week event at AEON (Japan) supermarkets, Hai Duong's fresh lychees are very popular with Japanese consumers and highly appreciated for their taste. .
In 2023, with the connection of the Department of Industry and Trade, the Department of Agriculture and Rural Development and related agencies, Hai Duong province had a working session with Aeon Group, visiting and surveying the lychee area in Thanh district. River. This is the first time Aeon Group has a direct meeting in the province on the issue of agricultural product consumption.
Aeon Topvalu Vietnam Co., Ltd. has committed to continue exporting about 30 tons of Hai Duong fresh litchi to the Japanese market. At the same time, the enterprise wishes to build a plan of association and cooperation for long-term distribution, export and consumption of Hai Duong litchi. In addition to fresh lychee, businesses also research to invest in freezing and processing technology for year-round consumption…
It is expected that in 2023, Hai Duong's lychee output to Japan will be about 2,000 tons.
The whole province of Hai Duong currently has 8,880 hectares of litchi; concentrated mainly in Thanh Ha district about 3,250 ha and Chi Linh city about 3,400 ha; The rest are other regions. In which, the area of early lychee accounts for about 30%; lychee in the main season is about 70%.
Up to now, Hai Duong's fabrics are basically manufactured according to safe processes. In which, there are 52 growing areas with an area of 610 hectares producing according to VietGAP and GlobalGAP standards. Fabric production areas for export are subject to strict quality control to ensure the conditions of importing countries.
In addition, the whole province currently has 203 planting area codes for export. In which the United States 42 codes; Australia 46 codes; Japan 39 codes; Thailand 8 codes; China 68 code. There are 21 packing facility codes for export to Chinese markets (13 codes), the rest are the US, Australia, Newzeland, Japan and Thailand. Planting area codes, lychee packing facilities of the province have met export demand.
Source: https://mekongasean.vn/hai-duong-day-manh-xuat-khau-vai-thieu-thanh-ha-sang-nhat-post22992.html