China ranks second in imports of Vietnam's agricultural, forestry and fishery products, but ranks first in fruit and vegetable imports.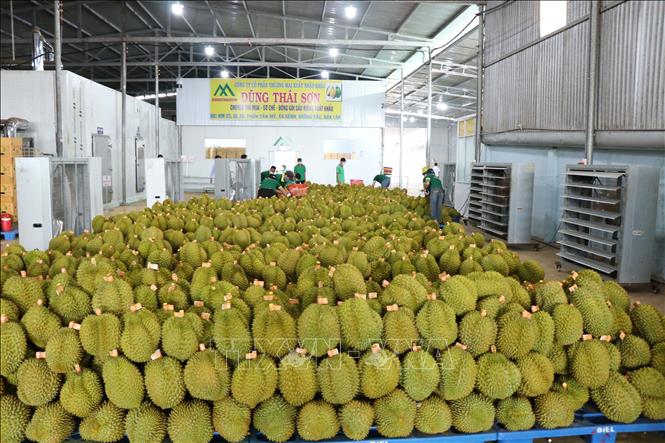 China is considered as a "market" to consume large agricultural products in the region and internationally, especially with increasingly fierce competition in terms of quality, price, brand, and distribution from other countries. similar supply. This requires that Vietnamese agricultural products not only have quality but also have a brand name to be able to make a sustainable advance into this market.
Choosing to export by sea, so even though the export of agricultural products through the border gate has faced many difficulties, Dong Giao Food Export Joint Stock Company (DOVECO) has not been affected too much. In 2022, the business has focused on promoting the export of products to the Chinese market and achieved a growth rate of 130% compared to 2021, said Pham Ngoc Thanh, Deputy General Director of Dong Dong Food Export Joint Stock Company. Delivery (DOVECO) share.
Mr. Pham Ngoc Thanh assessed that China is a market with great potential. To be able to export fruit and vegetable products smoothly, it is very important to promote, advertise and introduce products to customers. DOVECO's way is to still actively participate in fairs in your country. That is the fastest way for Chinese consumers to access Vietnamese agricultural products.
Since China adjusted its epidemic prevention and control measures, Mr. Ho Tien Thieu – Chairman of the People's Committee of Lang Son province said that import and export activities by traditional methods at some border gates have gradually been restored. Vietnam's agricultural products and fruit exports to China account for about 80% of the total value of export turnover through Lang Son province.
Mr. Le Thanh Hoa, Director of SPS Vietnam Office shared, in 2022, Vietnam will export more than 53 billion USD of agricultural, forestry and fishery products; in which the Chinese market contributes more than 14 billion USD. Considering that China's total import volume is over $260 billion, Vietnam accounts for less than 5%.
To maintain and promote trade activities to China, Mr. Nguyen Nhu Tiep, Director of the Department of Quality Processing and Market Development, said that enterprises must perform well on three issues. That is, to strictly implement Order 248 on registration and management of foreign food production enterprises, Order 249 on measures to manage import and export food safety; including completing the application before June 30, 2023. Enterprises need to have a food safety management system equivalent to HACCP. Along with that is to ensure the technical factors before China conducts online inspection and field inspection.
Catching up and adapting to the Chinese market will help Vietnamese agricultural and aquatic products find a foothold in the Chinese market. Order 248 and Order 249 are considered as guidelines in China's import activities. The two orders form a protection system for consumers and for genuine production and business enterprises. From the stages of retrieving the code of the growing area, farming area, packaging, transportation… all must be strictly managed. The transparency of production information, good management of growing area codes, farming areas, and packing facilities will promote trade promotion to China.
Deputy Director of Plant Protection Department Huynh Tan Dat emphasized that producers need to ensure strict compliance with instructions from production, collection, preliminary processing, processing as well as throughout the process of packaging and transportation. , distribution. This is a prerequisite for opening and developing markets in the exporting country.
In order for the trade to China to maintain its growth momentum, Mr. Huynh Tan Dat suggested that businesses, organizations and individuals cooperate more closely with the Departments of Agriculture and Rural Development; regularly organize the monitoring and follow-up of new Chinese regulations to quickly complete the dossier.
From a business perspective, Mr. Pham Ngoc Thanh suggested that ministries and branches continue to create favorable conditions for Vietnamese businesses to participate in product promotion and trade promotion programs for Vietnamese agricultural products. especially in potential markets.
Currently, there are 16 plant products being exported to China, which are banana, durian, mangosteen, black jelly, rice bran, rice, sweet potato, watermelon, dragon fruit, mango, jackfruit, longan, litchi, rambutan, chili, passion fruit. Among them, 7 products already have protocols. The Ministry of Agriculture and Rural Development is continuing to promote coordination with the Chinese authorities to negotiate to open the door for avocado, pomelo, pineapple, custard apple, and cardamom products.
According to Minister of Agriculture and Rural Development Le Minh Hoan, the opportunity to expand trade in many fields, especially in the field of agricultural products and fisheries, comes from the high-level statements of the General Secretary or the Prime Minister. . Doing well in trade also contributes to strengthening the traditional friendship relationship as expected by the two countries' senior leaders.
Minister Le Minh Hoan said that businesses should give up thinking about trading. The Ministry of Agriculture and Rural Development, the Ministry of Industry and Trade and the Ministry of Foreign Affairs will coordinate to submit to the Government a long-term strategy in bilateral trade cooperation with China so that the two sides can take advantage of each other's opportunities. , complement each other in the process of trading.
Minister Le Minh Hoan also emphasized that as long as we have not built a brand for traders and entrepreneurs, it will be difficult to build a brand for each agricultural product. Each enterprise raises its own level, more proud, more responsible in each cooperation journey.
Source: https://baotintuc.vn/kinh-te/xay-dung-thuong-hieu-nong-san-viet-tai-trung-quoc-20230302074353643.htm