Vietnam's agricultural and aquatic product exports to Australia are increasing day by day. Many products and items have a certain position in the market and are highly appreciated by Australian consumers. These are favorable conditions for Vietnam to boost the export of agricultural and aquatic products to Australia in the coming time.
Mr. Nguyen Phu Hoa, Vietnam Trade Counselor in Australia, said that economic-trade cooperation between the two countries is a bright spot, with two-way trade turnover in 2022 reaching nearly 15.7 billion USD, an increase of nearly 27 % compared to 2021. Australia becomes Vietnam's 7th largest trading partner and Vietnam becomes Australia's 10th largest trading partner.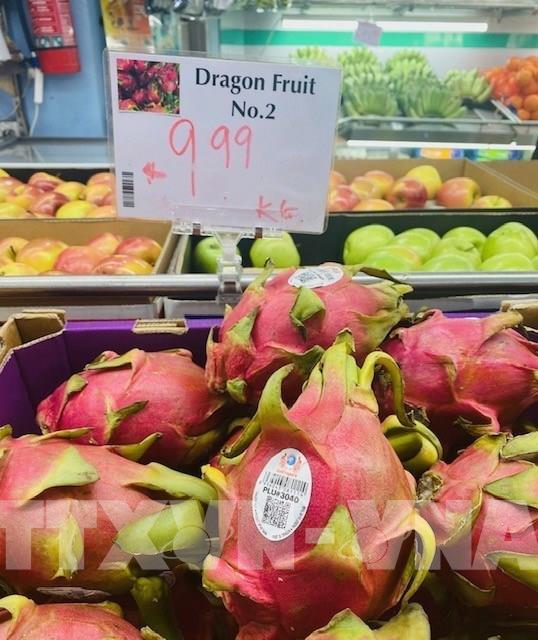 After the efforts to implement the market action plan of the Phase 1 Trade Deal (2019-2021), the belief in Vietnamese products and the interest of enterprises of the two countries is a great opportunity. The deal is implementing a phase 2 plan based on the market situation and the policies of the host country in the direction of going deeper into the supply chain.
As an enterprise with many years of exporting to the Australian market, Mr. Nguyen Dinh Tung, General Director of Vina T&T Joint Stock Company, said that the Australian market is not a large but quite stable market. The demand for vegetables and fruits is relatively large, so this is also a market for enterprises to exploit.
Enterprises are exporting frozen mango, coconut, longan and durian to the Australian market, exporting an average of 2 containers each month, with a turnover of nearly 10 million USD/year. With the current stable growth, the market grows about 10-12%/year. In 2023, businesses invest in promoting and expanding the market for other products for pomelos and fresh durians into the Australian market.
General Secretary of the Vietnam Fruit and Vegetable Association Dang Phuc Nguyen said that for vegetables and fruits, Australia is not a big market, consuming little but requiring quite high quality. However, this is a niche market for businesses to take advantage of opportunities to export.
Each year, vegetables and fruits exported to this market fall back to about 100 million USD, but this market also has quite large competition, under competitive pressure from Thailand, Malaysia…
The main export products and have a position in the market to Australia include dragon fruit, mango, jackfruit, durian, and Siamese coconut. In recent years, enterprises have also promoted cooperation and technology transfer in processing and management with Australia to better export and conquer the market.
"Australia has many organizations that support the development of Vietnamese fruits and vegetables, support in farming techniques, preservation and standardization, to export back to Australia. They have supported the development of Vietnam's fruit industry, especially technology support, experts to transfer, support for key products into the market such as mango, coconut … ", Mr. Nguyen said. .
Talking to PV CAND Newspaper, Ms. To Thi Tuong Lan, Deputy Secretary General of the Vietnam Association of Seafood Exporters and Producers (VASEP), said that in the seafood sector, Vietnam is holding the No. the Australian market, accounting for 23% of Australia's seafood imports in 2022.
Australia is a fast-growing and stable market. CPTPP brings opportunities to increase seafood exports to Australia in recent years. A sudden increase and accounting for the largest proportion of products exported to Australia after 4 years is whiteleg shrimp.
Along with that, pangasius fillets develop quite well. However, in the first months of the year, the market recorded a general decline due to inflation and reduced consumer spending. Accordingly, in the first quarter of 2023, Vietnam's seafood exports to Australia reached 63 million USD, down 32% compared to the same period last year. In which, whiteleg shrimp exports decreased by 34%, pangasius exports decreased by 26%, seabass decreased by 34%… However, it is forecasted that seafood exports to Australia will gradually recover in the second and third quarter of 2023.
Dang Phuc Nguyen said that besides opportunities, the Australian market also has many difficulties and challenges. In particular, technical barriers, strict regulations on biosafety in Australia are still big obstacles for Vietnamese exporters.
Enterprises first need to comply with regulations and ensure stable quality products according to requirements. Because, for products like mango to Australia, they have an automatic goods classification line, if type 1 goods are mixed with type 2, they will be returned, which will affect businesses and the market.
Source: https://cand.com.vn/kinh-te/hang-viet-nam-da-co-cho-dung-nhat-dinh-tai-thi-truong-australia-i689718/