National products need the first factors to benefit the country, the next benefits the people, and finally the interests of enterprises. To create a national agricultural product brand, it is necessary to focus on 1-2 typical products that are different from other countries and have a strategy to build. If only, products that are only bought and sold again and again will not develop sustainably.
On April 6, Thanh Nien Newspaper held a seminar "Building a national brand for Vietnamese agricultural products" with the participation of the Ministry of Agriculture and Rural Development, the Ministry of Industry and Trade, the People's Committees of provinces and cities, experts and businesses to come up with solutions. development orientation of national agricultural products.
Currently, all countries have their own brand of agricultural products such as Norwegian salmon, Japanese Kobe beef, American apple, New Zealand kiwi… In Asian countries, Vietnam also has durian, but durian is also available in Vietnam. Malaysia has a brand name, so the price is very high, while the quality of Vietnamese durian is no less, the price is cheaper.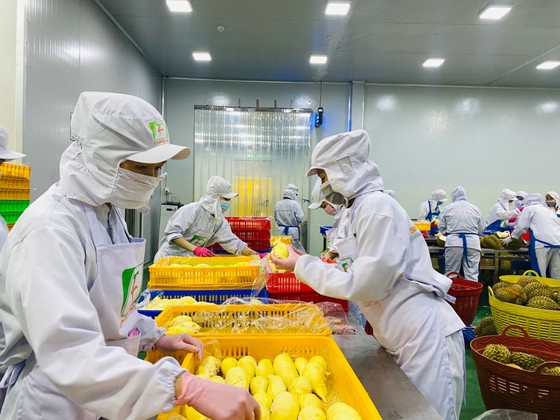 According to Prof. Vo Tong Xuan, the story of building a brand of agricultural and aquatic products needs to originate from the parties. The first is that the state focuses on promoting brands for Vietnamese agricultural products. On the business side, it is necessary to organize the planting on a large area, homogeneous raw materials, packaging …
In addition, the state needs to have a policy on land consolidation. Vietnam needs to select a few agricultural products to represent the country, then ministries and branches to jointly promote them such as the Ministry of Agriculture and Rural Development, the Ministry of Industry and Trade, the Ministry of Culture, Sports and Tourism, the Ministry of Foreign Affairs, etc.
Providing information at the seminar, Mr. Nguyen Nhu Cuong, Director of the Department of Crop Production (MARD), shared that currently, Vietnamese agricultural products are mainly exported raw or finished products under foreign brands to enter markets. Retail stores of Vietnamese people in foreign countries have not been able to access large supermarket systems. To build a Vietnamese agricultural product brand, products need to have a solid foundation from the domestic market to the foreign market.
In addition, businesses need to associate with farmers to produce stable quality, build intellectual property, process technology, etc. To achieve national brand, the state needs to support trade promotion and development. export product development.
Source: https://www.sggp.org.vn/nong-san-viet-can-tap-trung-mot-vai-san-pham-noi-bat-post684826.html