Vietnam's fruit has recently had a strong growth in output, diversity in types, is highly appreciated by most markets, but it is difficult to go far because it cannot be preserved for a long time.
FTA Key
Vietnam has now signed many free trade agreements (FTAs) with major markets such as the EU, Australia, Canada… bringing great opportunities for agricultural products in general and fruits in particular. In particular, the EU is committed to opening up very strongly for Vietnamese vegetables and fruits under the EVFTA Agreement. In fact, Vietnam's vegetable and fruit exports to the EU market after the EVFTA came into effect have achieved positive results: The average export turnover of vegetables and fruits to the EU increased by 7.5% year on year. According to many fruit businesses, although the export situation to the EU has decreased recently due to high inflation in this market, affecting purchasing power, the potential for exploitation is still great.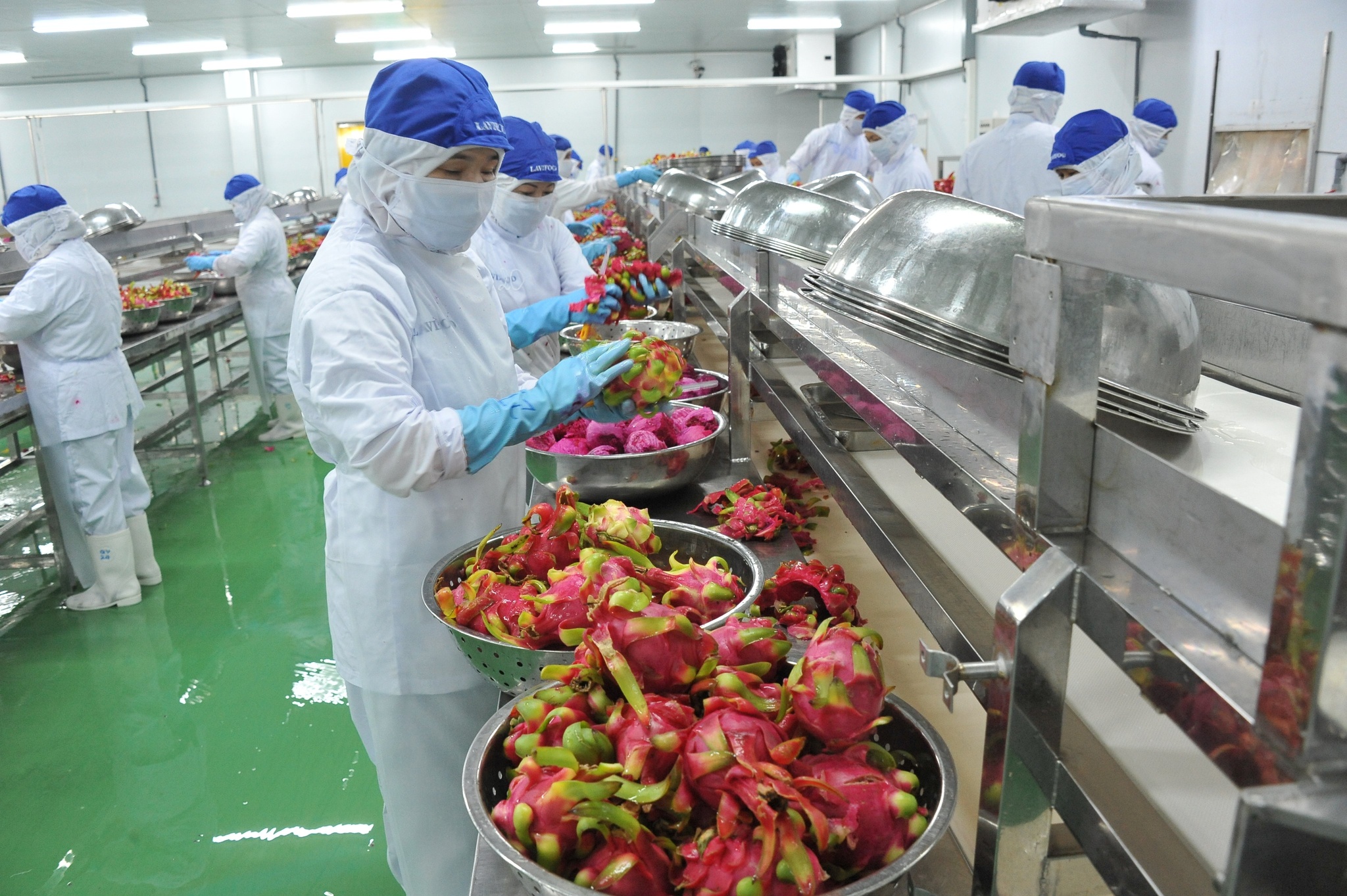 For the Australian market, Mr. Le Thanh Tung, Deputy Director of the Department of Crop Production (Ministry of Agriculture and Rural Development) said: "Our country has a lot of potential to boost exports to Australia of fruits such as pomelo, passion fruit, etc. dragon fruit… because there is no overlap between Vietnam and Australia in agricultural products like neighboring countries. However, the biggest difficulty of the Vietnamese fruit and vegetable industry is the preliminary processing and preservation. Vietnam's tropical fruit is characterized by its rapid deterioration, while it takes a long time to reach distant markets. That is why Vietnamese businesses have not yet exploited their advantages."
In order to support Vietnamese enterprises to export vegetables, fruits and spices to Europe, Oxfam in Vietnam and VCCI have built a project to support small and medium enterprises in the spice, vegetable and fruit industry. . Ms. Vu Thi Quynh Hoa, Country Director of Oxfam in Vietnam, said: "The goal of the project is to focus on supporting Vietnamese businesses in the three spice, vegetable and fruit industries to increase export sales to the EU market. . The project will provide in-depth technical support packages for each enterprise in terms of quality management, supply chain management and market development towards export to the EU. In parallel, there are opportunities to connect business with potential customers from Europe."
The door was open, but…
As one of the major exporters to Korea and China in the past 5 years, Mr. Le Duong, Chairman of Union Trading Company, shared: "We have invested in a modern and specialized banana growing area. In the past 5 years, the industry has been operating professionally in Binh Phuoc, An Giang, Quang Ngai, Cu Chi with an area of 500 hectares, including 150 hectares of GlobalGAP certified bananas, eligible for export to all countries. However, at present, we only export to Korea, China, Malaysia, Singapore, the Middle East… If you go further, the transportation and logistics costs are very high, the transportation time is long, so it will definitely affect affect product quality".
The biggest difficulty of Vietnam's fruit and vegetable industry is preliminary processing and preservation. Vietnam's tropical fruit is characterized by its rapid deterioration, while it takes a long time to reach distant markets for consumption. Therefore, Vietnamese businesses have not yet exploited their advantages.
Mr. Le Thanh Tung, Deputy Director of the Department of Crop Production (MARD)
Similarly, Ms. Nguyen Thuy Thuan, Director of Thanh Long Tea Company (HCMC), said: "For a long time, we only exploited the Chinese market and exported dragon fruits to neighboring countries, far away. is to the UAE, Bangladesh. The reason is that the storage time of dragon fruit cannot be extended, in addition, the transportation cost and loss rate are also quite high. Although I really want to expand to more markets, I can't do it in the current conditions."
For the US market, although it is large, the consumption potential is "huge" because there is a large Vietnamese community here, but Vietnamese fruits are difficult to take advantage of when the geographical distance is too far. Mr. Nguyen Dinh Tung, General Director of Vina T&T Group, one of Vietnam's largest fruit exporters today, commented: "Currently, the US has licensed Vietnamese fruits including mangoes. , longan, lychee, dragon fruit, rambutan and breast milk. All of these fruits are considered very delicious and popular, but they spoil quickly. Therefore, there are many difficulties in storage, and it is difficult to transport long-term by sea to the US. If using the air route, it will push up the selling price, reducing the competitiveness of the product."
The solution to effectively export fresh fruit to markets as far away as the US, according to Mr. Tung, long-term preservation technology must be extremely good. Because, from Vietnam, it is transported by sea to Long Beach port (the second largest US port in terms of the number of containers unloaded) with the condition that there is no disease in 17 days, plus fruit collection is 21 days. From the port to the wholesale point (wholesale) it takes 3 days, then from wholesale to the market, supermarket continues to take 3 more days. That requires Vietnamese technology to preserve fresh fruit for 45 days before it can be sold in the US. If the ability to preserve such a long time is not achieved, when Vietnamese fruits arrive in the US, they will soon spoil and have to be discarded.
Experts in this field also said that in order to sell a large volume of fresh fruit to the US, it is imperative that Vietnamese businesses upgrade their preservation technology for long-term shipping by sea to reduce costs instead of going to the US. by air at high cost. For example, with each kilogram of fresh fruit exported by air to the US, it costs 7-8 USD at this time, it will be difficult to compete with the fruit of other countries in the market.
The next hope is probably the pomelo when it is officially exported to the US from October 2022. Mr. Nguyen Dinh Tung said that this will be a potential export fruit to the US because the technology of preserving pomelos in Vietnam has been up to 90 days.
In the Australian market, coconut products are dominant with export turnover increased by 44% over the same period last year. Notably, fresh Vietnamese coconuts were present in Australia even in winter. Over the past time, the Vietnam Trade Office in Australia has continuously worked with importers and exporters to both promote imports and promote in Australia. Currently, many brands of fresh Vietnamese coconut have approached the Australian market from time to time such as Mekong, VietAsia, 4waysfresh, batoausale, Cocosmile (An Viet), AusAsia… Besides, canned coconut water products are also available. promote in this market.
Source: https://thanhnien.vn/thieu-cong-nghe-bao-quan-trai-cay-xuat-khau-kho-di-xa-post1518587.html?utm_source=dable