Dragon fruit growers in Binh Thuan in particular and the whole country in general are facing difficulties, especially in off-season dragon fruit growing areas.
Planting dragon fruit in the off-season must light up. Each stage of lighting, 1 hectare of dragon fruit costs about 50-60 million dong in electricity costs, not to mention input materials such as fertilizer and labor have increased, so the difficulty becomes even more difficult.
At one time, a dragon fruit garden of more than 1 ha brought a profit for Mr. Vo Van Tuan's family (Ma Lam town, Ham Thuan Bac, Binh Thuan) hundreds of millions of dong after each harvest. However, from the end of 2021 until now, the price of dragon fruit has continuously decreased, causing Mr. Tuan's family to suffer heavy losses.
"The investment cost is about 22 to 25 million, if this generation sells at this price of about 2-3 million, it's the same, the loss is gone, the price is about 2,000-3,000 now, but the last generation was cut off the root," said Mr. Vo Van Tuan shared.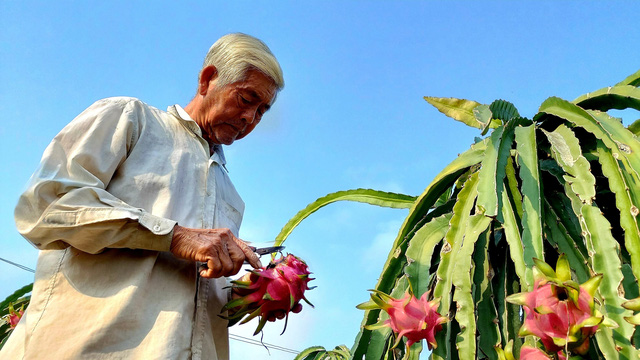 "Now the output is not stable, people find it difficult and then discouraged. Most of the time recently, people have the mentality of selling their garden and don't want to stick with it anymore. If this type of time lasts, the more people do it, the more people do it. the more losses, how can there be sources to invest anymore", said Mr. Nguyen Thanh Son, Ham Kiem commune, Ham Thuan Nam, Binh Thuan, said.
Not only the gardeners suffered losses, but the barn owners who bought dragon fruit also could not avoid economic losses.
"Last year, businesses that had at least 5 – 10 cars, many businesses were 20 – 30 cars, they lost their money, they had to pay for their purchases, and businesses that lost money had to bear it", Ms. Huynh Thi Tu, Director of Loc Tu Dragon Fruit Export Co., Ltd., Binh Thuan, said.
In fact, at present, more than 90% of fresh dragon fruit exports depend on the Chinese market. Therefore, every time the Chinese side tightens the border gate, the production of farmers is seriously affected due to stagnant goods and a sharp drop in prices.
Promote official fruit export
With an annual output of nearly 1.5 million tons, dragon fruit is one of nine key fruit products of Vietnam licensed for official export to China. However, not every license is automatically allowed to export officially but must meet specific conditions on standards, quality, food safety and most importantly, be able to sign contracts with suppliers. work.
Therefore, in order to avoid market uncertainties, the agricultural sector has determined that reorganizing production, improving quality, and increasing the level of planting area codes for traceability will be a must.
"A word like this can be used, the marriage certificate is not a talisman to guarantee marriage. We have decrees, there are goods that are officially exported, but we are not in tune with the law. level of development and market requirements, it is normal for us to still face difficulties.So our point of view is that we have to reinvent ourselves, how should we meet the requirements of the world market, that is the key," said Ms. Nguyen Thi Thanh Thu, from the Vietnam Digital Agriculture Association.
"The General Department of Customs of China has issued two orders 248 and 249, actually they standardize the management process of imported food not only for Vietnam but also for the whole world. In order not to disrupt trade between In the two countries, we have organized to disseminate these regulations to industry associations and the business community," said Nguyen Nhu Tiep, Director of the Department of Quality Management of Agriculture, Forestry and Fisheries.
"We will focus first on guiding businesses to register as enterprises to export agricultural products and food to China. Second, we recommend that enterprises exporting to China develop quickly. , strongly shifting to official export, because we can see that in the most difficult times, official exports are still circulating normally, while informal exports have many potential risks", said Mr. Tran Quoc Khanh. Deputy Minister of Industry and Trade, said.
VTV.VN
Source: https://cafef.vn/nguoi-trong-thanh-long-cang-lam-cang-lo-20220418134433102.chn